Subject: Article XV, Section C. Controversy
January 6, 2022
Dear Chairman Brown,
We the undersigned will not comply with your directives to hold "re-organizational" meetings. We believe that your mandates are a direct result of the GOP's retained council Chris Murray's tortured interpretation of the bylaws, specifically his struggle with the definition of the word "new." At best, this was a mistake on your part and at worst an attempt at the deliberate destruction of the Colorado GOP.
ARTICLE XVI, Section F. was added by the SCC at a time when Colorado was growing and the addition of a new Congressional, State, or House District was imminent. Those of us SCC members in attendance at that time clearly knew the intent of this bylaw was for the creation and formation of a Republican organization within a newly formed district (CD 8).
Which bylaw or statute do you claim grants you the sole authority to dissolve 107 GOP District Organizations and vacate 328 recently duly elected officer positions? In your email of 12-10-2021, you use the term "re-organizational" or "re-org" meetings five times. The term "re-organizational" which you used acknowledges these districts are existing, therefore they are not "new." Your position as the Chairman of the State Party doesn't even afford you a voting position if a district votes to remove an officer or to amend district bylaws, so how could you presume you have the sole authority to remove ALL district officers and nullify ALL district bylaws?
The adjustment of boundary lines does not create any officer vacancies or nullify any established bylaws. Currently serving officers were elected in the Spring of 2021 and the bylaws require them to serve their term in their district until 2023 or they are removed by their committee, or they resign.
Therefore, we refuse to hold "re-organizational" meetings as you have directed. We the undersigned demand that this issue be brought before the entire SCC. We expect a "reply all" email response to the question of your authority within 48 hours.
Sincerely,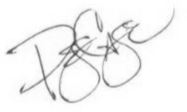 Peg Cage, Bonus Member
Boulder County
This email address is being protected from spambots. You need JavaScript enabled to view it.

Ben Nicholas, Bonus Member
Adams County
This email address is being protected from spambots. You need JavaScript enabled to view it.

Nancy Pallozzi
Jeffco Bonus Member
NaThis email address is being protected from spambots. You need JavaScript enabled to view it.

JoAnn Windholz, Chairman
Adams County Republicans
303-995-0866
This email address is being protected from spambots. You need JavaScript enabled to view it.


Tina Jones Griffiths

Lois Elaine Rice, Bonus Member,
Weld County Member of SCC Board
This email address is being protected from spambots. You need JavaScript enabled to view it.
401-692-1253

Steve Hall
Cell 970.302.3999
Founder - Calling the 7000
www.callingthe7000.com

Elizabeth Veeder, Chairman
HD 24 (I am now in 23)
This email address is being protected from spambots. You need JavaScript enabled to view it.

John Murino
Weld County PCP, District F, Precinct 208
Colorado GOP Election Integrity Operations (EIO) Committee Member
Weld County GOP Strategic Planning Committee Member
This email address is being protected from spambots. You need JavaScript enabled to view it.
720-849-8334

Paul Prentice
Bonus Member, El Paso County Executive Committee
This email address is being protected from spambots. You need JavaScript enabled to view it.

Elizabeth Lupia
Bonus Member
This email address is being protected from spambots. You need JavaScript enabled to view it.

LeMoine Otjen Dowd
This email address is being protected from spambots. You need JavaScript enabled to view it.

Julia A. Lindahl
Pct Leader - 159 (El Paso County)
Julia Lindahl
719-494-7129


Laurel Imer
Republican Candidate for CO-07
2020 Trump appointed Delegate, CO-07
This email address is being protected from spambots. You need JavaScript enabled to view it.
SCC Bonus Member, Jefferson County

Peter Lupia
El Paso County bonus member
This email address is being protected from spambots. You need JavaScript enabled to view it.

Olivia Lupia
El Paso County Bonus Member
OThis email address is being protected from spambots. You need JavaScript enabled to view it.

Steve Dorman
Jeffco PC & DC

Joe Janecky
Vice Chair HD 45

Joseph R. Stano
District Captain JCR HD 23 E
Former Chairman HD 23 JCR

Anil Mathai
SCC Member
This email address is being protected from spambots. You need JavaScript enabled to view it.

Pamela Stoll
Registered GOP Colorado voter

Dona Troyer
Bonus Member CD7
DThis email address is being protected from spambots. You need JavaScript enabled to view it.

Sherronna Bishop
CThis email address is being protected from spambots. You need JavaScript enabled to view it.


Weston D. Imer
Former Trump Campaign Official and Surrogate
Campaign Manager Laurel Imer for Congress
Founder and CEO of Prodigy Consulting Group, LLC
This email address is being protected from spambots. You need JavaScript enabled to view it.

James Peabody
This email address is being protected from spambots. You need JavaScript enabled to view it.

Shawn P. Hegarty
PCP, DC in HD-23 for which location I am now in HD-30
Lakewood, CO 80214
Office: 303-233-6591, Cell 303-929-4818
Email: This email address is being protected from spambots. You need JavaScript enabled to view it.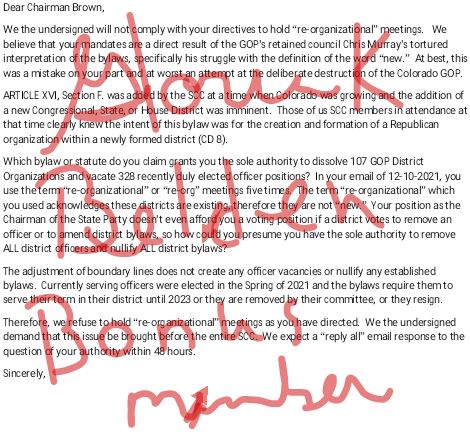 Gloria Kay Belden
Weld County Bonus Member
This email address is being protected from spambots. You need JavaScript enabled to view it.


James MacFarland, Bonus Member, Jefferson County
This email address is being protected from spambots. You need JavaScript enabled to view it.

Christina Mascarenas
This email address is being protected from spambots. You need JavaScript enabled to view it.

Lori Cutunilli
This email address is being protected from spambots. You need JavaScript enabled to view it.

Carol Cochrane
HD 51 and SD 15 Chairman
This email address is being protected from spambots. You need JavaScript enabled to view it.

Mark Milliman
HD-11 District Chairman

John Heimsoth
PCT 157 Chairperson
Bonus Member of El Paso County GOP

Greg Vandell
This email address is being protected from spambots. You need JavaScript enabled to view it.

Greig Veeder
This email address is being protected from spambots. You need JavaScript enabled to view it.

Alan Seeling
Chaffee County GOP Chairman
This email address is being protected from spambots. You need JavaScript enabled to view it.
Chaffee Co GOP is opposed to this wanton takeover of our Party and its Bylaws.

Jack Canterbury
Bighorn Realty
Employing Level Broker Associate
719-429-5411 mobile
This email address is being protected from spambots. You need JavaScript enabled to view it.