The Caucus Meetings include discussions about what is important to you and your neighbors, resulting in RESOLUTIONS to be submitted to the County GOP Resolutions Committee.
For more information about caucuses, see https://mycoloradogop.org/246-project-2022-republican-caucus.
Resolutions - Statements declaring the principles and objectives that Republicans believe would add value to the platform of the Party and direct the voting of Republican legislative officers at every political level. They are usually proposed, discussed, and voted upon at precinct caucuses. Approved resolutions are again considered for approval at the County and State Assemblies. Each state's approved resolutions are then submitted in writing to the NRC Convention Committee on the Platform to be considered as additions to the National Republican Platform.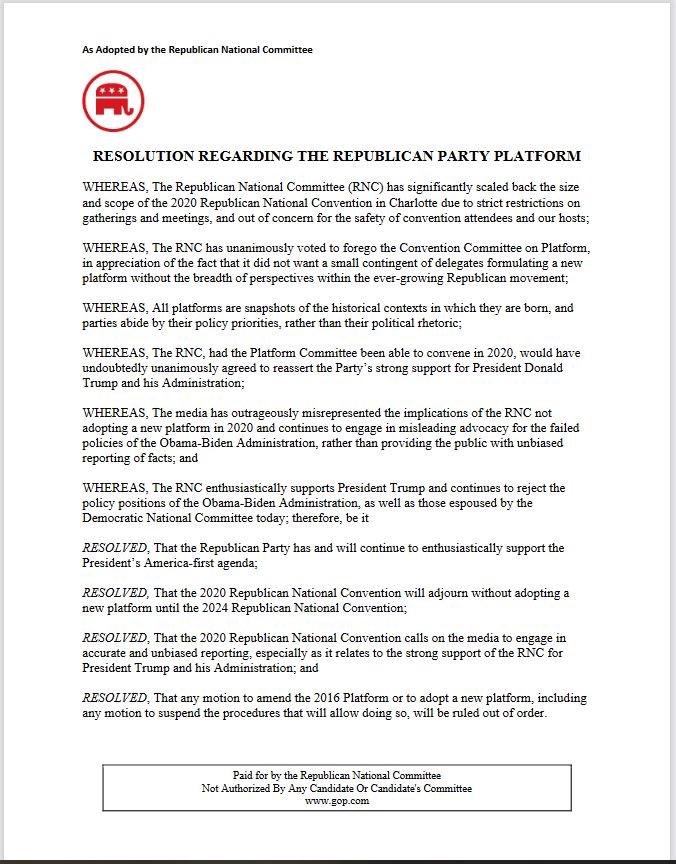 HOW TO START
Decide what issue you are passionate about and you think is important to discuss and accept into the GOP Platform at the County, State, and National levels. Write them up - keep them as short as possible. Examples of short and longer RESOLUTIONS are below.
GET THEM TO THE CAUCUS ON TIME
Some County GOP organizations allow groups or individuals to insert copies of the RESOLUTIONS they are proposing into the individual precinct caucus packets in the days before caucuses. Other Counties would like caucus goers to bring copies of the RESOLUTIONS they plan to propose with them to caucus.
In some counties, only the resolutions that are approved by majority vote in ten or more precincts will be heard and voted on at the County Assembly. RESOLUTIONS are presented at the County Assembly by the County's Resolution Committee and discussed according to the bylaws of the County.
Find your County GOP contact information: https://www.cologop.org/county-parties/
RESOLUTIONS passed at the County Assembly are subsequently submitted to the State and then the National GOP Resolution Committees for discussion and votes at the State, then National, Assembly and/or Convention.
IMPORTANT SUGGESTION ABOUT RESOLUTIONS AT CAUCUS
Your votes at caucus are important! You will elect (and/or run to be one of) your two Precinct Committee People who, among other things, will directly or indirectly elect the party officers of the County, Districts, and State GOP organizations. You will also elect delegates who will directly or indirectly delegate candidates to the primary ballots at your County, Districts, and State levels. Seeing how they vote during RESOLUTION discussions will help you decide who to elect. At the beginning of your caucus meeting, check the agenda. If the votes for PCPs and delegates are scheduled to be held before the RESOLUTION discussions, you may make a motion to amend the agenda to discuss them before. Remember, the meeting is only two hours long, so you may want to make your motion with a discussion time limit to leave time for the votes.
---
Below are some RESOLUTIONS being proposed at caucuses in Colorado. Your first vote will be deciding the ones, if any, you will advance to your caucus!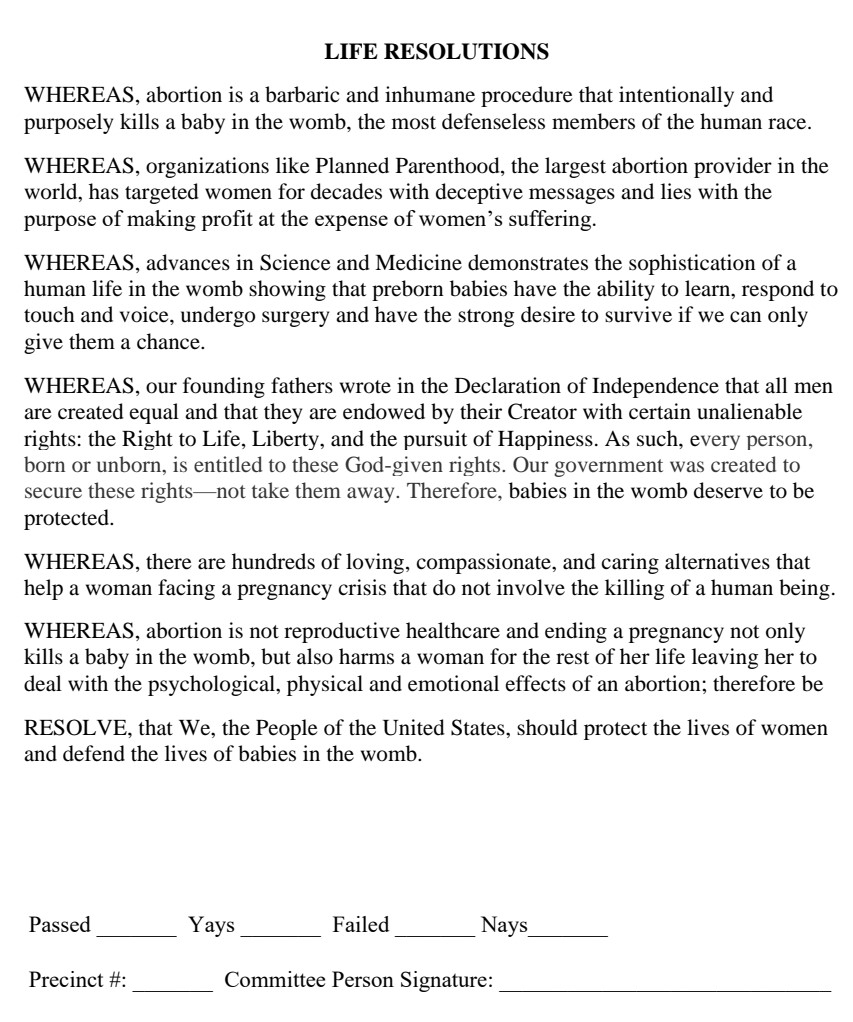 The group who submitted the above RESOLUTION provided important blanks for record keeping.
---
The group who submitted the Election Integrity RESOLUTIONS, below, have also formatted their many resolutions for ease of use at the individual caucuses. Click HERE to see the .pdf file.
Colorado is NOT the "Gold Standard" of election processes and should not be recognized as such by any other state as a model or standard that should be followed.
Whereas: Every legal individual's vote should be counted.
Whereas: Elections are for the people, and this should be reflected by having full transparency in every election.
Whereas: The people should have confidence in their local and state-wide election process.
Whereas: Candidates on every level are entitled to a fairly run election process.
(Designed to be voted on as individual resolutions)

BE IT RESOLVED: The election must take place only on the date set forth in the Constitution.
BE IT RESOLVED: All voters must show a valid state issued picture ID [with proof of US citizenship - not on original .pdf].
BE IT RESOLVED: Mail-in ballots must be abolished unless they are military ballots
BE IT RESOLVED: Any election using electronic means must be subject to a full forensic analysis
BE IT RESOLVED: All county voter rolls must be considered the primary validating source and must be cleaned and updated 90 days prior to any election.
BE IT RESOLVED: Elimination of automatic voter registration
BE IT RESOLVED: A return to in-person paper ballot voting.
BE IT RESOLVED: All tabulation machines must be contained in Faraday Cages (enclosure used to block electromagnetic fields to prevent tampering).
---
CLICK HERE to go to the RESOLUTIONS submitted to one county for their caucuses, in printable .pdf format.
---
Here is a RESOLUTION to directly impact the GOP "Commitment to Colorado."
Commitment to Colorado Pro-Life Resolution
Whereas, Colorado has not prioritized protecting the pre-born and is one of the most dangerous states in America for pre-born babies;
Whereas, Colorado has become a destination state for women seeking abortions from all over the country;
Whereas, the Colorado state GOP has failed to advance or even mention our pro-life platform positions;
Whereas, when running for State Chair, our state GOP chairwoman had pledged to support all parts of the 2016/2020 RNC pro-life platform but has since neglected to include any pro-life verbiage in her so-called Commitment to Colorado platform;
Therefore, be it resolved that the state GOP commits to protecting the pre-born by adding support for the pro-life issue to their Commitment to Colorado platform.
---
Here is a general list of short RESOLUTION suggestions, in no particular order:
1) The __________ County Republican Party supports respect for life from conception until natural death.
2) Resolution: _______________ County Republican Party supports limiting the emergency powers of the executive branch of the state government, county commissioners, and public health departments to no more than 30 days without two-thirds approval of the state legislature for the executive branch and county commissioners for local executives.
3) The ______________ County Republicans believe that the public school system is not serving the purpose for which it was established and that the near-monopolistic control asserted by the educational establishment must be countered. Within the context of public education, the _____________ County Republicans favor "school choice." We believe that the school districts should allow and fund four alternatives to the traditional district schools; the alternatives are charter schools, magnet schools, home schools and remote schools. We also believe that it should be the prerogative of parents and students to choose private schools. We do not support vouchers for private schooling. Instead, we support Proportional Education Expense Refunding (PEER).
Above Resolution Revised:
Within the context of public education, the ______________ County Republicans favor "school choice," including such alternatives as charter schools, magnet schools, home schools and remote schools. We do not support vouchers for private schooling.
4) Public education purpose: to educate children in the areas of reading, writing, mathematics, science and history following the principle of truth.
Parental rights: to know what their children are being taught.
School choice: "the money should follow the student"
5) Whereas bipartisan Canvass Boards are convened after every election to confirm the integrity of the elections, they are only given audits of the count. The Canvass Boards must also be given an audit of the voter rolls and an audit to confirm that mail-in ballots were submitted by the eligible voter.
6) The original purpose of mail-in ballots was to increase voter participation. Studies have shown they do not. Mail-in balloting does however compromise election integrity. The secret ballot is no longer ensured, raising the possibility of voter intimidation and ballot harvesting. With thousands of ballots sent out and never returned, there is a question of sequestration. The current signature verification is inadequate to ensure the returned ballot belongs to the eligible voter. For these reasons election integrity is compromised.
Therefore, it is resolved that there continue to be multi-day in person voting. Mail-in ballots may be requested on a "no excuse" basis. Cards will be sent to the addresses on file before every election asking the voter if they wish a mail-in ballot with no excuse required. The cards then can be returned with the signature to be used to verify the mail-in ballot.
7) Whereas in the current form of government only the legislative branch may write laws, it is noted that from time to time emergencies will occur that require immediate action and the executive branch must be authorized to act expeditiously by declaring a state of emergency. However, these executive powers must be limited in scope and at all times be under review of the legislature.
Be it resolved that the Emergency Powers Checks and Balances Act, HB20B-1013, introduced by Representatives Humphrey and Marble, be passed. (Link to HB20B-1013: https://leg.colorado.gov/sites/default/files/documents/2020B/bills/2020b_1013_01.pdf)
8) Resolution: Mask Opt-Out
Permit the parent of any child enrolled in a public elementary or secondary school, or in any school-based early childhood care and education program, to elect for such child to not wear a mask while on school property. No parent making such an election shall be required to provide a reason or any certification of the child's health or education status and no student shall suffer any adverse disciplinary or academic consequences as a result of this parental election.
9) Resolution: Covid Shot Opt-Out
Permit the parent of any child enrolled in a public elementary or secondary school, or in any school-based early childhood care and education program, to elect for such child to not need to have received a Covid shot while on school property. No parent making such an election shall be required to provide a reason or any certification of the child's health or education status and no student shall suffer any adverse disciplinary or academic consequences as a result of this parental election.
10) Whereas, the people of Colorado voted in 1992 for the Taxpayer Bill of Rights (TABOR); and
Whereas, TABOR has provided the state of Colorado significant fiscal advantage over other states, and
Whereas, the legislature and Colorado Supreme Court continue ignoring the taxpayer's intent by allowing taxes called fees to become law;
RESOLVED, the ____________ County Republican Party wholeheartedly supports TABOR in its original intent.
11) Whereas our state government used their power to license to control openings and closings during the pandemic and
Whereas they did so in inequitable ways allowing big business to open and forcing small businesses to close and
Whereas yelp data indicates that 60% of those businesses forced to close during what was deemed an emergency are permanently closed and
whereas licensing is an expense for all business, and whereas Republicans believe in affordability, the dignity of work, strong communities, and the rights of individuals
Be it resolved to remove business licensing requirements in CO, opening up this state to a freer economy not controlled by unelected departments and/or bureaucrats.
12) We resolve to reject and/or repeal any government legislation, regulation or program that intends to silence, disarm, subjugate, or otherwise infringe upon the constitutional rights of any law-abiding citizen.
13) Whereas the Supreme Court declared that "If this suggestion of personhood is established, the appellant's case [i.e., 'Roe' who sought an abortion], of course, collapses, for the fetus' right to life is then guaranteed specifically by the [14th] Amendment," we strongly support every effort to reverse Roe vs Wade.
14) We strongly support Colorado's caucus/assembly/convention system as the means for citizens to choose their party leaders and government servants.
15) We strongly support Colorado legislation that would guarantee verifiable election integrity.
16) Whereas the Sixteenth Amendment to the Constitution of The United States does not set a date for payment of income taxes. Therefore, be it resolved that the date of payment be the second Tuesday in the month of November.
17) Whereas the Seventeenth Amendment alters the original Constitution in the election of U.S. Senators by their respective State Legislatures and replaced with popular vote. The Seventeenth Amendment has tipped the balance of power to counties with high population and holds moot those counties with low populations. Of the sixty-four counties in Colorado, eighty percent of the population live within the ten front range counties. The counties within the States no longer have a fair and balanced representation in the U.S. Senate. Therefore, be it resolved that the Seventeenth Amendment be repealed.
18) Whereas the Supreme Court Of The United States (SCOTUS) has expended its authority unconstitutionally in rewriting law and forcing social changes upon the people. Therefore, be it resolved with an amendment to the Constitution that any ruling handed down by the SCOTUS shall be nullified if three fifths of the States' individual House of Representatives so vote to hold said ruling nullified within a six-year period of the ruling.
19) We will continue to work for restoration of the citizen involvement and oversight in all stages and steps of our elections.
20) We will support the rights of poll watchers to observe all election processes and for our elections to be run by bipartisan election judge teams so voters can be confident in our elections.
21) Elections must be transparent and verifiable. We will work to eliminate the use of technologies and procedures that reduce the ability to independently verify the accuracy of processes and counts.