IRREGULARITIES IN THE 2020 ELECTION
CONFIRMED BY A STATEWIDE CITIZEN-LED CANVASSING EFFORT AND FORENSIC ANALYSIS IN MESA COUNTY

Upwards of 12% of Colorado's November 2020 Measures and Races Need to Be Questioned
PRINT THIS FLIER TO DISTRIBUTE! CLICK HERE!
An independent canvassing audit of 4,601voters found:
Voters that didn't live at the stated address during the election
Voters still listed at the address in question after the resident confirmed they didn't live there (couldn't confirm if they lives there at the time of the election)
Voters with commercial ro vacant lot addresses
Voters who didn't vote but had ballot cast for them
Voter data manipulation
Colorado Canvassing Report and video presentation of the report.
Mesa County Results
Wireless access to voting machines violated state election laws.
Machines altered vote results.
Electronic audit records were deleted that would prove outside interference.
Conflict of Interest among elected officials
• Pam Anderson (Republican Secretary of State candidate): Director of Center for Tech and Civic Life (CTCL) when $331M+ in Zucker-bucks was doled out to counties to influence the 2020 election. Amistad Project launched a multi-million dollar lawsuit on behalf of several states against the CTCL for illegally injecting private funds into public elections. Pam Anderson is named in the lawsuit.
• Matt Crane (Executive Director of Colorado County Clerks Association): Wife Lisa Flannagan-Crane worked with Eric Coomer at Dominion and were both named on the Dominion proposal with Colorado in 2015 (Matt was the Arapahoe County Clerk & Recorder during this time). He is also a Board member of Voatz, a mobile voting tech company, and is featured on a flyer for Global Mobile's text-2-cure product.

What can you do to help?
1. Sign up to be a poll watcher or election judge.
2. Sign up for updates and get involved with the United States Election Integrity Plan.
3. Get the word out to anybody and everybody! Forward this to people
4. Work with your county commissioners to enact election integrity reform. Cause of America is working on a proposal for hand-counting paper ballots that cost less and is more secure than the current electronic systems.
Built For Integrity Election System: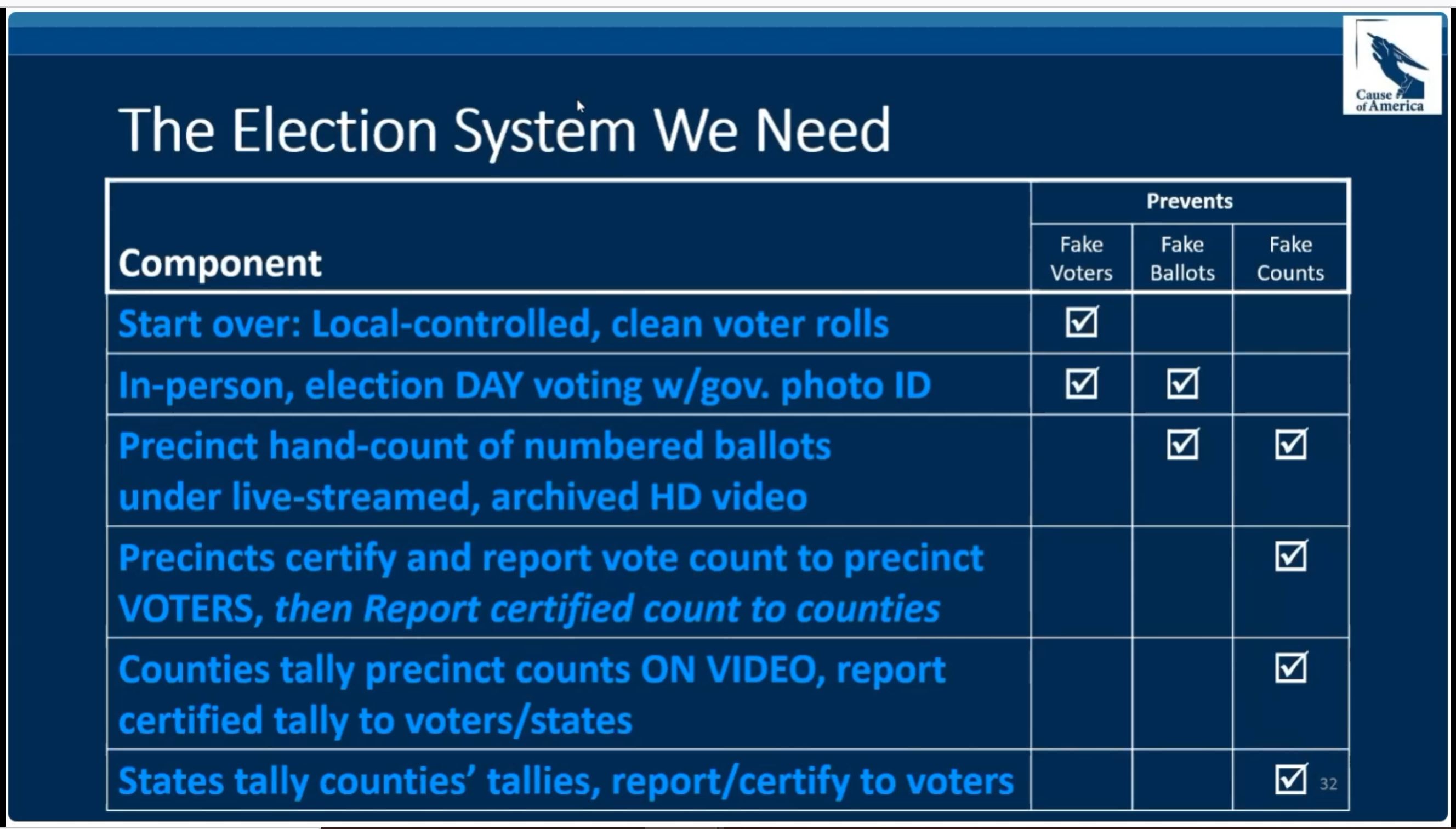 WATCH THE GOLD STANDARD V. PYRITE DEBATE - The slide show includes what is wrong with Colorado's election systems and solutions.
Also visit - KBB HAD A FAIR CHANCE, BUT NOW IT'S TIME FOR HER TO GO