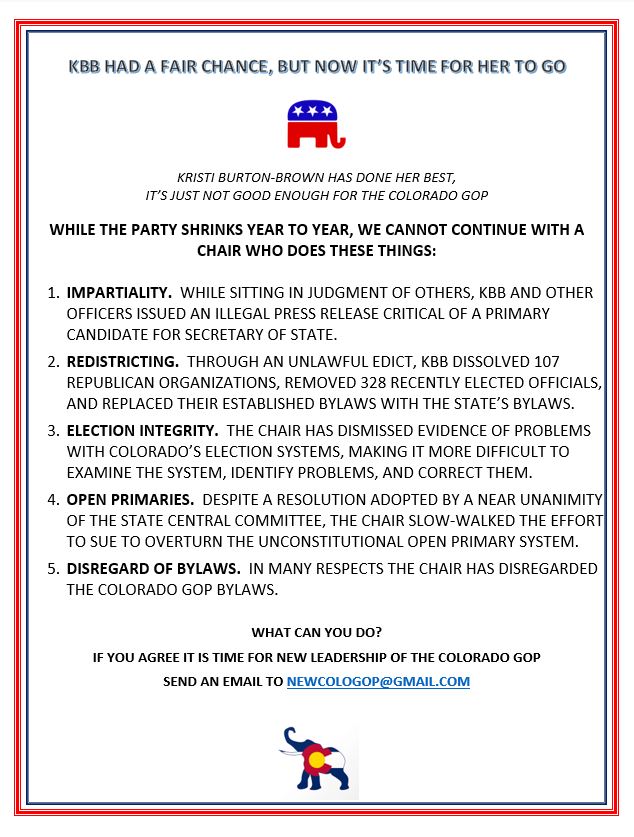 IF YOU AGREE IT IS TIME FOR NEW LEADERSHIP OF THE COLORADO GOP, SEND AN EMAIL TO This email address is being protected from spambots. You need JavaScript enabled to view it..
1. IMPARTIALITY
TIME FOR KBB TO GO - 1. IMPARTIALITY A. Tina Peters
TIME FOR KBB TO GO - 1. IMPARTIALITY B. Ron Hanks
2. REDISTRICTING
CO CHAIRMAN DISSOLVED GOP ORGANIZATIONS, REMOVED ELECTED OFFICERS
3. ELECTION INTEGRITY
KBB DENIES IRREGULARITIES IN THE 2020 ELECTION
4. OPEN PRIMARIES
KBB'S INACTION USED IN JUDGE'S DECISION TO DISMISS THE SCC-SUPPORTED LAWSUIT WITHOUT AN INJUNCTION FOR THE 2022 PRIMARY ELECTION
IF YOU AGREE IT IS TIME FOR NEW LEADERSHIP OF THE COLORADO GOP, SEND AN EMAIL TO This email address is being protected from spambots. You need JavaScript enabled to view it..
Here are some of the replies as of 4/14/2022
I'd like to help remove traitors from Colorado.
Hello! I saw the letter on Telegram that pointed to this email address, so I'm emailing to let you know I agree that we need new leadership for our CO GOP ASAP! I attended last Saturday's, 4/9, GOP assembly in Co. Springs as a delegate, and I was very disappointed to say the least. It was very unprofessional how the chairman, KBB, totally ignored the delegates' concerns and demonstrated absolutely zero attempts to remedy dissatisfaction.
It was very obvious to me that she had an agenda serving herself and the "elite" of the party at the detriment of the majority of the party in attendance at the assembly.
I am currently an elected GOP precinct committee person for my precinct, as well as being an alternate delegate who got promoted up to delegate for this past Saturday's state assembly.
I also just got accepted as an Election Judge for my county so I will be involved in the June primary for my county in that regard.
Let me know if any additional information is needed. Thanks so much!
Clean the slate. One day, one vote, in person. The people are fed up with government officials not representing them.
So my dear rebel rousing friends, what can we do to disrupt the establishment? She certainly overstepped the line last weekend!
It's time to remove KBB and the others like her that are hindering our chances at election integrity. Not only hindering but intentionally sabotaging them.
Please do whatever is needed to get new leadership for Colorado GOP. KBB has not supported Dr Tina Peters who has proof of fraud in Mesa County. KBB does not represent the conservative Republicans.
Behavior and lack of unbiased leader was horrifying and it turned delegates away from the Republican Party. If we are not allowed a chance to speak at our own assembly by the chairperson, she should be removed.
https://coloradotimesrecorder.com/2022/04/assembly-aftermath-grassroots-calling-for-co-gop-chair-to-resign/44895/