Press Release from law firm - https://www.elpasogop.galtstrategic.com/pr131/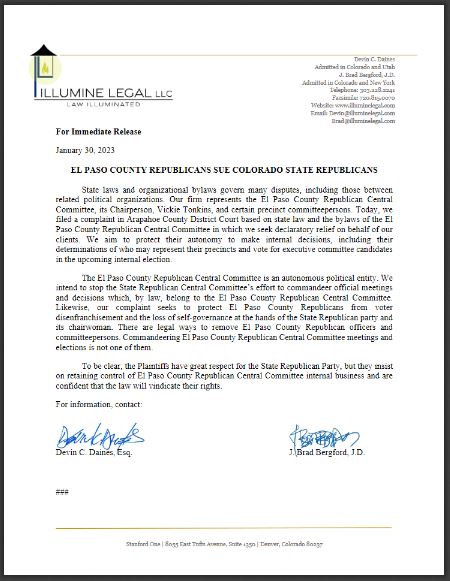 ---
January 31, 2023
Gazette article - El Paso County Republicans sue Colorado GOP to stop state party from taking over local election
https://gazette.com/premium/el-paso-county-republicans-sue-colorado-gop-to-stop-state-party-from-taking-over-local/article_105ac2a2-47c0-59d2-ae64-3135217d01dd.html
By ERNEST LUNING This email address is being protected from spambots. You need JavaScript enabled to view it.
In a lawsuit filed in Arapahoe County District Court, the El Paso County party, along with county GOP chairwoman Vickie Tonkins and a half dozen precinct officers, asks the court to declare that the state Republican Party and Kristi Burton Brown, its chairwoman, lack the authority to tell the local party how to conduct its business, including any oversight of next month's election for the county party's leadership.
Citing state law and the county party's bylaws, the attorneys who filed the lawsuit said it seeks to prevent the state party's "effort to commandeer official meetings and decisions" they argue belong to the local party and its current leadership, including Tonkins.
"We aim to protect their autonomy to make internal decisions, including their determinations of who may represent their precincts and vote for executive committee candidates in the upcoming internal election," said attorneys Devin C. Daines and J. Brad Bergford of the Denver-based firm Illumine Legal LLC, in a release announcing the lawsuit.
The lawsuit comes on the eve of a special meeting of the state GOP's central committee , called earlier this month by Burton Brown in response to what she described as an "internal conflict" between Republicans in Colorado's largest county over qualms expressed by some Republicans that Tonkins is stacking the deck for her favored candidates.
At issue is who gets to run the local county party's election on Feb. 11, when Republicans are scheduled to pick a county chair, vice chair, secretary and other officers to serve two-year terms. Tonkins, who has chaired the county party for two 2-year terms, is seeking a third term.
Burton Brown is asking the state GOP's governing committee - made up of county party officers, elected officials and so-called bonus members from larger counties - to consider whether a neutral party from outside the county should control the local party's election.
She's also asking the state committee to determine the membership of the county party's central committee in response to critics who allege Tonkins has improperly packed the committee with her own supporters.
The state GOP adopted an unprecedented censure motion against Tonkins last month, charging that she "flagrantly and intentionally violated her duty as County Chairman" by convening a meeting just days before the November election for the purpose of censuring dozens of local Republicans who organized their own voter-contact operation after complaining Tonkins wasn't supporting some GOP nominees.
Colorado's Republicans and Democrats are set to undergo their biennial reorganizations in coming months, with county parties holding officer elections in the first weeks of February and the state parties following suit in March and early April, respectively.
Burton Brown didn't immediately respond to a request for comment. When she issued the formal call for Tuesday night's state committee meeting, however, she told Colorado Politics that she wasn't trying to "choose sides in El Paso County" and didn't intend to insert the state party into the county's business.
"This is not about the state party stepping in to govern a county party," she said earlier this month. "It's about the integrity of the elections at their upcoming reorganizational meeting and letting the central committee decide how that meeting's going to be run so that everyone can trust the results."
-end article-
---
For further information on the situation, see: