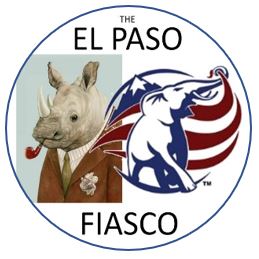 January 1, 2023, with updates
(See photo credits below)
---
The Fiasco in El Paso is a vivid microcosm of the RINO versus MAGA wings of the Republican Party throughout America. It is important for all Colorado Republicans to understand what is happening there. I have many articles to share with you, so will summarize them here and provide a link to view the entire article.
Unfortunately, this is not a one-off incident of the over-reach of this Colorado Republican Committee Chairman. Please see this article from April, 2023 - KBB HAD A FAIR CHANCE, BUT NOW IT'S TIME FOR HER TO GO🔗
Submit your articles about El Paso, or any other RINO/MAGA fight, to This email address is being protected from spambots. You need JavaScript enabled to view it..
(RINO - Republican In Name Only. MAGA - Make America Great Again.)
---
February 11, 2023 - EL PASO CHAIRMAN TONKINS' MESSAGE TO EPCR ABOUT "REORGANIZATIONAL" MEETING🔗
TO BE HELD AT:
Discovery Canyon Campus
1810 North Gate Blvd
Credentialing begins at 7:30am
Meeting begins at 9:30am
---
OBJECTION TO KRISTI BURTON BROWN CHAIRING THE 3/11/2023 COLORADO REPUBLICAN COMMITTEE ORGANIZATIONAL MEETING🔗 By Maurice Emmer
---
DOCUMENTS ABOUT "SPECIAL MEETING" OF THE SCC MEETING ON 1-31-2023
EL PASO - SPECIAL MEETING RESULTS🔗
OFFICIAL CALL: SPECIAL SCC MEETING🔗
1-24-2023 MORE INFORMATION FROM KBB ABOUT THE 1-31-2023 SPECIAL MEETING🔗 From Chairman Kristi Burton Brown
1-?-2023 EL PASO - ESTABLISHMENT DEMANDS CONTROL BACK🔗 Demands of the Pikes Peak United Republicans
1-23-2022 EL PASO GOP REJECTS PURPOSE OF SPECIAL MEETING🔗 Statement by El Paso Chairman Vickie Tonkins
1-30-2023 EL PASO - SPECIAL MEETING VOTING MEMBERSHIP DEFINED🔗 by Maurice Emmer
---
1-31-2023 EL PASO REPUBLICANS SUE TO STOP STATE FROM TAKING OVER🔗 By Ernest Luning, Gazette
1-31-2023 - EL PASO – FINAL INFO ABOUT THE SPECIAL COMMITTEE MEETING🔗 By Todd Watkins
1-31-2023 EL PASO - ESTABLISHMENT'S POWER THREATENED BY GRASSROOTS🔗 By Marie Watkins
Excerpt:
"The Establishment seeks to disqualify all of us new, grassroots, patriot, precinct leaders. We are not fighting Democrats, we are fighting the establishment RINOs who want full control for their own profit."
---
1-26-2023 EL PASO - ENOUGH IS ENOUGH🔗 By Representative Ken DeGraaf
Excerpt:
Please join me in doing these things for the January 31, 2023, special meeting:
1. Demand Kristi Burton-Brown cease this illegal coup and follow legal processes.
2. Demand a recorded roll-call vote for all votes. There is no "secret" electronic ballot.
3. Reject, and vote "no", on any attempts to strip voting rights of precinct committee persons and to violate the majority will of El Paso County Republicans by removing the ability for our chair to perform her duties.
4. Demand Kristi Burton Brown to recuse herself from chairing the special meeting because her father (Mike Burton) is one of the primary complainants to this controversy. Kristi Burton Brown has a clear conflict of interest and cannot avoid the appearance of favoring one side of another.
1-26-2023 Letter also sent from Rep. Scott Bottoms
EL PASO - REP. SCOTT BOTTOM'S LETTER ABOUT SCC MEETING🔗
---
1-29-2023 FORMER CO SENATOR KEVIN LUNDBERG'S LETTER - http://kevinlundberg.com/the-state-central-committee-special-meeting🔗
Excerpt:
"For the record, I have repeatedly asked the state chair to not go through with this meeting as I expect it will only serve to further stir up controversy, forming the all too familiar circular firing squad within our party."

1-30-2023 EL PASO - LETTER FROM CRC SECRETARY MARILYN HARRIS🔗
Exerpt:
"After reviewing dozens and dozens of emails, texts message, facebook notices, I am not convinced it was the right thing for the state to call this meeting."
1-30-2023 EL PASO - DISENFRANCHISEMENT OF OUR REPUBLICAN BASE🔗 By Adriana Cuva
Excerpt:
"...in Colorado, the 'individual' has political clout and influence if he/she sets out to actually engage in the process. ... A group of us... began to recruit people throughout El Paso County to help fill vacant precinct leader positions."
---
1-29-2023 EL PASO - EMAIL THREAD RE: HUEY LAUGENSEN🔗
1-30-2023 EL PASO - EPCR SECRETARY DEFENDS CHAIRMAN TONKINS🔗
1-30-2023 EL PASO - LETTER TO KBB FROM VOLUNTEER MARK🔗
---
1-30-2023 EL PASO - THANKS TO R'S FOR GOOD GOVERNANCE🔗 by Todd Watkins
1-30-2023 EL PASO - ANSWERING R'S FOR GOOD GOVERNANCE CLAIMS🔗 By Maurice Emmer
Excerpt:
The point is that the "indictment" contains numerous claims but does not say when the events occurred nor when they were brought to the CHAIR, not the CC. Without a showing that they were brought to the CHAIR within two weeks, according to the bylaws the controversy doesn't exist.
That, fundamentally, is why the CC has no jurisdiction.
---
1-27-2023 EL PASO - CONSIDER THIS OPAQUE TERMINOLOGY🔗 By Maurice Emmer
Excerpt:
"It prohibits any controversy from being considered by the state CC if it is not brought to the state CC within two weeks after the underlying events occurred. The 'indictment' does not provide information about when the alleged events occurred, let alone in relation to when they were brought to the attention of the state chair."
---
1-26-2023 EL PASO - ERRONEOUS CHARGES TO REMOVE PCP'S🔗 By Todd Watkins
Excerpt:
"This is another unfounded allegation against a dedicated and well-meaning county party led by a dedicated and well-meaning party chairperson."
1-26-2023 EL PASO - THIS IS NOT THE WAY TO CHANGE A BYLAW🔗 By Maurice Emmer
Excerpt:
"If the Whiners wanted someone else to preside at the reorganizational meeting, there was a legal way to do it. Call for an EPC GOP CC meeting to consider a bylaws amendment and round up the votes to make the change. They couldn't, I guess, so instead they lobbied the outgoing state chair to undertake an illegal procedure. An illegal procedure should not be supported when there is a legal avenue available."
---
1-25-2023 EL PASO - THIS LOOKS LIKE A CONTROVERSY🔗 By Todd Watkins
Excerpt:
"The bylaws have not been followed here, and KBB is affording her own self-styled special dispensation to this group with whom she has special bonds: One of them is her father, the rest are part of the so-called Peak Republicans, a group she has sponsored since its inception in March of 2022."
1-25-2023
EL PASO - CHAIRMAN V. CHAIRMAN EMAIL THREAD🔗
Excerpt:
"Kristi Burton Brown is furnishing to the state central committee the complainants' (to include her father) official statement that traffics in character assassination and unsubstantiated accusations but censoring what our official response and defense can say in the email exchange below."
---
1-25-2023 MORE ON THE ILLEGAL SPECIAL CENTRAL COMMITTEE MEETING🔗 By Maurice Emmer
Excerpt:
"As if more evidence were needed of the kangaroo court nature of this shameful matter, the state chair refused to circulate the EPC leadership's statement because EPC's statement exposes what everyone already knows: the special meeting is illegal. Pointlessly petulant and juvenile behavior by the state chair. as the EPC statement has been circulated informally throughout the state CC anyway."
1-25-2023 EL PASO - DEFAMATION OF CHARACTER AND A "SPECIAL" HEARING🔗 By Todd Watkins
Excerpt:
"The very first allegation leveled is that "Chairwoman Tonkins was found guilty by a court of law…" This is patently false for a number of reasons."
---
1-25-2023 EL PASO - NO CONFIDENCE IN ONLINE SCC MEETING🔗 by John Heimsoth
Excerpt:
Chairwoman Burton-Brown also stated that, "I want to be clear that this is not about the state party stepping in to govern a county party." If she clearly means that, Why call the meeting?
---
1-25-2023 EL PASO - KBB RECUSE HERSELF FROM SCC "SPECIAL MEETING"🔗 by John Heimsoth
Excerpt:
"Therefore, I, John Heimsoth, a duly elected Bonus Member from El Paso County, demand that Kristi Burton Brown recuse herself from administering the special meeting she called for on January 31, 2023, because of the aforementioned reasons. I further demand that a response be given from KBB to this request before the meeting next Tuesday."
---
1/17/2023 KBB'S LAST GASP GRASP OF RINO POWER🔗 by Maurice Emmer
Excerpt:
The conduct of the state chair in this regard is unconscionable. CC members should object to this call and should ask the chair to withdraw it. If she does not withdraw it, CC members should attend and reject any motions proposed pursuant to the stated agenda.
---
1/12/2023 A UNIQUE RESPONSIBILITY - ORGANIZATIONAL MEETING 🔗
---
1/14/2023 $900,000 TO PEAK REPUBLICANS🔗
---
12/21/22

CLICK HERE🔗
to see the letter that started this latest fiasco. It is being circulated to solicit signatures to require that a Colorado Republican Committee (CRC) meeting is called to
"

determine whether Peak

Republicans

or a third party

should be designated as the El Paso County Republican Party."
---
Maurice Emmer's overview of the Peak Republican's request -
12/31/2022
READ MORE🔗 of this letter and other related letters from Maurice.
Excerpt:
"The Whiners seem to fear they cannot control the outcome of a normal organizational meeting. Therefore, they are trying a workaround. But this is a dangerous workaround. Not only is it not authorized by the Colorado GOP bylaws, if tolerated it will establish a precedent and pattern that Whiners in other counties will emulate. If the Colorado GOP wants to commit suicide by lawlessness, this looks like an opportunity."
---
A suggested letter for concerned citizens to copy and send to KBB and the leaders of the Peak Republicans

---
12/30/2022 IN DEFENSE OF CHAIRMAN TONKINS - by Sheila S. Lapora
A first-hand account of the Peak Republicans' attacks on Chairman Tonkins
Excerpt:
The "Peak Republicans" started their organization in the spring of 2022 without the knowledge of Chair Tonkins. She found out about the organization in late summer. Although she was unaware of the organization, State GOP Chair Kristi Burton Brown was fully aware and attended their Grand Opening. Chair Tonkins received many calls from Republican voters confused because the media, under the direction of the PRs was telling voters to go to the "Peak Republicans Headquarters" NOT the El Paso County GOP headquarters.
---
12/29/2022 THEY ARE TRYING TO TAKE AWAY YOUR VOICE🔗 by Todd Watkins
Todd's warning letter to the El Paso County Central Committee.
Excerpt:
The fact that you might be in a decision making position as a precinct leader, bonus member, division leader, or district officer is anathema to them. *In fact, they are actively pursuing the dissolution of the caucus system to ensure you never have a voice in OUR party again. (https://campfirecolorado.com/opinion/is-it-time-republicans-outsource-the-caucus-system/)🔗
---
CLICK HERE🔗 for the presentation given at the El Paso Central Committee 11-5-2022 meeting where thirty three Peak Republicans were censored.
CLICK HERE🔗 for the cease and desist letter the Colorado Republican Committee sent to Peg Cage and Jimi Mack for using "www.MyColoradoGOP.org."
---
December 18, 2022 EL PASO - WHAT'S CAUSING DIVISION? By Paul Prentice
Excerpt:
"...the establishment-endorsed Republican candidate for Colorado Secretary of State was a former Democrat activist and an executive in Mark Zuckerberg's steal-the-vote organization called the Center for Technology and Civic Life (CTCL). And yet, somehow the grass roots are the divisive ones?"
---
"EL PASO FIASCO" CIRCLE PHOTOS CREDITS:
Rhino in Suit: https://www.notonthehighstreet.com
Elephant: El Paso County Logo
---
MORE TO COME!
Peg