Update Comedy
March 24, 2023
AC GOP ANNOUNCES... IT WAS DEFINITELY ELEVENTY-ONE!🔗
February 28, 2023
This article shows the email thread between an Arapahoe County Chairman Candidate in 2023, Jeff Young, the former AC Chairman who presided over the Organizational Meeting, Suzanne Staiert, the "newly elected" Chairman, Anne Rowland, and the Chairman of the Colorado Republican Committee, Kristi Burton Brown. The most recent email is at the top.
Summary - 181 members were officially credentialed for the Arapahoe County Central Committee Chairman election. After the voting was closed and ballots were counted, it was discovered that there were more ballots than credentialed members. The presiding chair took the unprecedented step of amending the credentials to match the number of ballots instead of calling for a revote as is required by Robert's Rule of Order. (From Jeff - I have not been able to find another example of this flippant violation of parliamentary procedures.) 187 people were eventually found to have been credentialed. Members who were not at the meeting were credentialed as attending and voting. Members who were credentialed and cast a ballot were not recorded as having attended.
The "losing" candidate has demanded a re-vote and the Chairman who presided over the election refused, so Jeff sent a request for the controversy to be heard by the State Executive Committee. Although he provided proof of problems with the election and submitted his controversy within the two-week period required by the bylaws, Chairman Kristi Burton Brown has refused to hear the controversy.
---
From: Kristi Burton Brown <This email address is being protected from spambots. You need JavaScript enabled to view it.>
Date: Sat, Feb 25, 2023 at 8:43 AM
Subject: Re: Controversies - Arapahoe GOP Reorganizational Challenge
To: Jeff Young
Cc: <This email address is being protected from spambots. You need JavaScript enabled to view it.>, ANNETTE ROWLAND, RONALD REDDEN, JEAN BAUGH, Suzanne Staiert
Hi Jeff,
I appreciate hearing your thoughts. I don't think it's a constructive use of either of our time to debate every point of your arguments here, as you need to seek a local resolution before filing a complaint with the State Party. In my first email to you, I didn't share every thought I have about every argument you raised -- instead, I sent you my basic topline analysis, in the hopes it would be helpful as you further consider your own arguments. I think the math on how Ms. Rowland won even if you take away 3 votes from her is particularly important. Whenever you submit affidavits in a controversy, they need to be fully accurate in any numbers they give.
My final point is in relation to the 2 week controversy period. If you re-read the portion of the bylaws that address that, they say the issue must be raised within 2 weeks, not resolved within 2 weeks.
Thank you,
Kristi
---
Jeff Young
Fri 2/24/2023 4:11 PM
To: Kristi Burton Brown This email address is being protected from spambots. You need JavaScript enabled to view it.
Cc: This email address is being protected from spambots. You need JavaScript enabled to view it.; ANNETTE ROWLAND; RONALD REDDEN; JEAN BAUGH; Suzanne Staiert
Chair,
In your response, I noticed that you left out the improper changing of the credentials from 184 to 187 where no vote was taken to amend this. Additionally, you left out the confirmed inaccurate credential report, which is a big deal because now we don't know who all was actually checked in and voted. I assume by your non-response to those items, you have no conflict with those claims. I have also been contacted by another person who is not listed on the official credential report, putting into further question who actually was credentialed and voted?
In regards to the guest voting, if you thoroughly read the affidavit from Susan Baker, you would note that guests and other non-voting members had already been allowed to voice vote in violation of the by-laws. It was only when a different standing vote occurred (after other voice votes) was a motion and objection made. The violation to the by-laws had already occurred.
On your point about the Robert's Rule for Order (RROR) in terms of the improper initial amendment to the credential report, the fact that the previous and new additional inaccuracies in the credential report are known, it is virtually impossible to know how many ballots are impacted and who exactly was present to cast a vote. These points further validate section 45:35 of RROR.
The lack of Voter ID has created the situation of inaccurate credentials, therefore, these two issues are not mutually exclusive, but inherently connected. As stated above, we do not have a way to confirm all voters who attended and voted, but we have confirmed examples of people who confirmed they weren't there. Since ballots are not able to be connected to voters and we don't have an accurate credential report, potentially fraudulent cast votes are highly likely versus if voter ID was required.
For the El Paso County controversy, the group in question filed after the two week controversy notice, never brought it to the county, and because of what you deemed as serious controversies, you stepped in. There was no adherence to this timeline or the requirement to solve at the county level in that group's controversy complaint. I would think that an improper election is a pretty serious controversy and warrants the same expectation of involvement from the state chair.
The county has scheduled only an executive committee hearing after the two week controversy period, therefore, we are not able to resolve within the 2 week window. Therefore, this is a proper controversy complaint to the State Republican Chair.
I prefer email communication over phone as a situation this serious requires clear language and proper documentation.
Jeff Young - Candidate Arapahoe County Chairman
---
From: Kristi Burton Brown <This email address is being protected from spambots. You need JavaScript enabled to view it.This email address is being protected from spambots. You need JavaScript enabled to view it.;
Date: Fri, Feb 24, 2023 at 12:09 PM
Subject: Re: Controversies - Arapahoe GOP Reorganizational Challenge
To: Jeff Young
Cc: ANNETTE ROWLAND, RONALD REDDEN, JEAN BAUGH, Suzanne Staiert
Hi Jeff,
Thank you for sending in your complaint and information. I'll address some of your claims below. You're also welcome to call me at xxx-xxx-xxxx if you'd like additional clarification.
Voter ID -- a great idea that all Republicans support. However, in order for this to be the basis for your complaint or a challenge to an election, you would have to have proof that a) voter ID is in the county bylaws and b) someone actually pretended to be another person in order to fraudulently vote. Your affidavits do not suggest this, and voter ID is not required in the Arap GOP Bylaws. Perhaps this is a good change to adopt for the future.
Guests voting -- you're correct that this isn't allowed. However, you also say that it was stopped when guests attempted to voice vote. No paper ballot or standing vote allowed guests.
Improper amendment to Credentials Report -- I read through your affidavits and I don't see any information that would make this an improper amendment. The Rule your parliamentarian consultant cites applies when people without the right to vote cast a vote. At the AC GOP meeting, it was explained in detail that the three additional people who took the credentialing from 181 to 184 were all valid members of the body with the right to vote. The body may and did adopt an amendment recognizing them.
Revote according to Robert's Rules -- If you believed the amendment to the credentials report was in error and against Robert's Rules, that's an issue you needed to raise at the meeting before it was adjourned. I was at the re-org meeting, and neither you nor anyone on your team sought recognition to challenge the amendment. You can't raise it after the fact.
El Paso County -- Thanks for your thoughts on this situation, but it was quite different in nearly every way than the complaint you raise.
Claim that Ann Rowland would not have cleared 50% -- In one of your submitted affidavits, the signer claims that, if 3 less votes for chair were counted, Ann Rowland would have received under the required more than 50% of votes. This is inaccurate. First, it's based on an assumption that all three votes would have been taken from Ms. Rowland. Second, even if you assume that, with 3 less votes cast, Ms. Rowland is still 1/2 vote over the 50% required. Therefore, she would still have won the race. Here's the math: the blank ballot, undervote, and vote for all 3 chair candidates do not count. Without those, there were 180 valid votes cast. If you'd like to contend that 3 of them were invalid and even take them all away from Ms. Rowland, that leaves her with 89 votes, you with 84, and Cory Parella with 4, for a total of 177. 50% of 177 is 88.5. Since Ms. Rowland would still have received at least 89, she clears the over 50% requirement.
I wanted to take the time to explain a few of these details from my perspective since I attended and voted at the AC GOP re-org. However, the bottom line is that you cannot file a controversy/complaint with the State Party until you have exhausted your local options. You can take a look at Article XV, Section C of the State GOP Bylaws: (See photo below or CLICK HERE🔗 for the full bylaws.) That Section explains that a controversy must not be able to be resolved at the local level in order for the State to hear it. You can take your controversy/complaint to your county's Ex Comm and Cent Comm, and both are avenues you would need to pursue before raising it to the State.
Thank you, and again, please feel free to call me if you'd like to discuss.
Kristi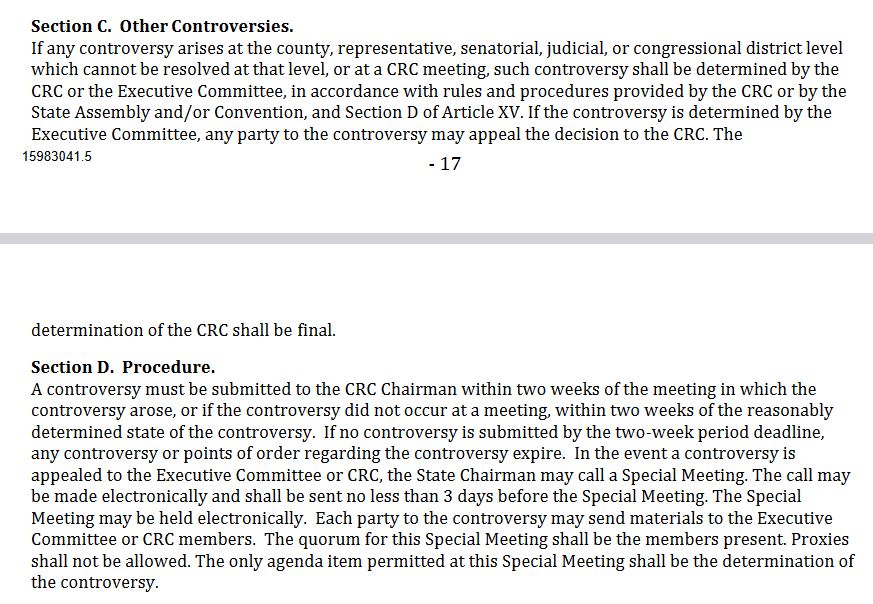 ---
Jeff Young
To: Susanne Staiert
Fri 2/24/2023 8:30 AM
Madam,
What is your official capacity within the county party? If you are a legal advisor, you have no authority under our bylaws to respond as a representative of the county party and it is improper that you are doing so.
Jeff Young - Candidate Arapahoe County Chairman
---
On Thu, Feb 23, 2023 at 1:49 PM Suzanne Staiert; wrote:
Good Afternoon,
Your email regarding the controversy was forwarded to me. Controversies must first go through the County. Therefore your matter is scheduled on the agenda for the county executive committee on Tuesday, February 28th, 6:30pm at the State GOP office.
Suzanne Staiert
---
Jeff Young
To: This email address is being protected from spambots. You need JavaScript enabled to view it.
Cc: This email address is being protected from spambots. You need JavaScript enabled to view it.; ANNETTE ROWLAND; RONALD REDDEN; JEAN BAUGH
Controversies - Arapahoe GOP Reorganizational Challenge
Thu 2/23/2023 3:43 PM
(Seven Affidavits, one declaration, and email were attached)
Chair - Colorado State Republican Party,
The former chair of the Arapahoe County Republican party has misled and misinformed the precinct leaders of this county in violation of her duty and has held an invalid reorganizational meeting election. The undersigned has made written demands on the former Arapahoe County GOP chair for a revote following proper procedures and has noticed the individual claimed to have been elected at the recent reorganizational meeting. This request has not been honored. The following controversy complaints are now made to the Chair of the Colorado State Republican Party (and will be updated if additional items are discovered):
o Improper credentialing
• No voter ID required or checked by credential committee as witnessed by myself and other members (see attached affidavits of Susan Baker, Robert Downey, Robin O'Meara, and Jan Weipert)
o Improper attempts of voice and standing votes by non-voting members
• Non-voting members were allowed to voice vote when a request for such was presented by the Chairwoman, in violation of the county bylaws. This became apparent when a standing vote was requested for one motion and objections were made when the guests attempted to vote (see attached affidavit of Susan Baker)
o Improper amendment of the Credentialing Committee report from 181 to 184 after voting was closed
• See attached affidavit from Carol Pickens and declarations from Parliamentarian Consultant Natli VanDerWerken and watcher Debbie Perry-Smith
o Failure to revote as required by Robert's Rules of Order
• Section 45:35 of Robert's Rules of Order provides a revote as the remedy for the situation where ballots were cast by persons not entitled to vote as in this situation where ballots were connected to people who were not a part of the official credentialing report (see attached declaration from Parliamentarian Consultant Natli VanDerWerken)
o Further Improper amendment of the Credentialing Committee report by the county's own admission from 184 - 187 (see attached emails and credentials reports from the county) while the members only confirmed 181
o Inaccurate official credentialing report
• A known member that was credentialed and voted at the meeting was not included in the official credentials report (see attached affidavit of Patricia McKernan)
• A precinct leader for precinct 229 did not attend the reorganizational meeting, but was listed as a credentialed voting member in the official credentials report (see attached email from Patricia McKenna, shared with her permission)
I would also like to remind the Chair of her meticulous involvement in the El Paso County controversy and would expect the same level of attention to this controversy.
Due to the controversies noted above, I am demanding a revote of the Arapahoe GOP Reorganizational Meeting on a date following the state Republican Central Committee meeting. Such revote should be administered by an impartial chair, by an impartial chair of credentialing, by impartial members of the teller committee, and should be conducted according to Robert's Rules of Order.
I await your response.
Jeff Young - Candidate Arapahoe County Chairman.
---
This email address is being protected from spambots. You need JavaScript enabled to view it.; ANNETTE ROWLAND; RONALD REDDEN; JEAN BAUGH
Thu 2/23/2023 12:44 PM
Dear Madam,
I notified various parties of irregularities in the conduct of the Arapahoe County GOP reorganizational meeting of Saturday, February 11, 2023. I received a response from the former Chair of the Arapahoe County Republican party. It appears that the former chair misled and misinformed the precinct leaders of this county in violation of her duty. As a result, and as a result of other irregularities, the elections held on February 11, 2023 appear to be invalid. The particular irregularities discovered so far include:
o Improper credentialing
o Improper amendment of the Credentials Committee report
o Failure to revote as required by Robert's Rules of Order
Additionally, the official email address This email address is being protected from spambots. You need JavaScript enabled to view it. still redirected to the former chair at the time the initial challenge was sent, which is improper since you were the presiding Chair. Given that all responses received have disputed that the cited irregularities invalidate the elections of February 11, there is a dispute and controversy that must be referred to the state party chair and executive committee pursuant to the state GOP bylaws. This is being sent to you as a courtesy notice that I will file controversy complaints with the state Republican Chair.
Jeff Young - Candidate Arapahoe County Chairman
---
From: Suzanne Staiert
Date: Mon, Feb 20, 2023 at 1:24 PM
Subject: Reorganizational Challenge
To: Jeff Young
Cc: Jean Baugh, Caroline Cornell, Anne Rowland, John C Lamb
Good Afternoon Mr. Young,
Attached is the Credentials Report you requested, as well as a tally of the results in all three county leadership races.
You claim in your email that improper credentialing and improper amendments to the credentialing report were observed, but you fail to document any facts to establish these claims.
Furthermore, as documented in the Report, the amendments to the Credentials were properly accepted by the body after a motion, second, discussion and vote. There is nothing within Robert's Rules or the AC-GOP bylaws that provides for the remedy of a revote where no objection had been made at the meeting and after adjournment.
The AC-GOP election was conducted with several safeguards to protect its integrity. Voting was done on paper ballots received only by members who were properly verified prior to voting. The voting was only permitted in person during the approximately 15 minutes that voting was open. These ballots were then hand-tallied by neutral party volunteers with several watchers present, with the total ballots cast fewer than the number credentialed to vote. (The inclusion of watchers was explicitly approved by the body early in the meeting.) This was all done after a full reading of the rules and without objection.
Sincerely,
Suzanne Staiert