---
Status - KBB'S INACTION ALLOWED UAFS TO VOTE IN 2022 PRIMARY
---
- PRESS RELEASE -
Colorado Group Files Suit to Declare Primary Law Unconstitutional
DENVER CO. PARABLE, "People for Association Rights and Bi-Partisan Limited Elections," together with various Colorado candidates for office, county chairmen and voters, have filed a lawsuit in federal court against Colorado Secretary of State Jena Griswold. The suit challenges Colorado's Primary Election law as a violation of their First Amendment rights to Freedom of Speech and Association and their Fourteenth Amendment Rights to Equal Protection of the Laws.
Also included are a motion for preliminary injunction to block continued use of Colorado's unconstitutional Primary law in the upcoming June 28, 2022, primary election and a motion for expedited briefing and argument.
Last Fall, the Colorado Republican Party Central Committee passed a resolution urging the party or its members to undertake this litigation with an almost unanimous of vote of its over 500 members.
PARABLE and the other Plaintiffs are represented by Dr. John Eastman (Constitutional Counsel Group) and Randy Corporon (Law Offices of Randy B. Corporon, P.C.).
Eastman was a visiting professor at the University of Colorado Boulder in 2020-2021 and, until January 2021, a long-time constitutional law professor and former Dean at Chapman University's Fowler School of Law in Orange County, California. He has an active Supreme Court practice.
Eastman was involved in the Supreme Court's landmark decision in California Democratic Party et al. v Jones (2000), where that state's political parties successfully challenged a primary law that was similar, though not identical, to Colorado's, on freedom of association grounds.
"I'm honored to be representing PARABLE and the candidates and voters who are standing up to Colorado's unconstitutional Primary law," said Eastman in announcing the filing of the lawsuit.
Corporon is active in Colorado politics and currently serves as Colorado's Republican National Committeeman. His firm has, since 1998, been involved in a wide variety of family, criminal and civil litigation, and the protection of constitutional rights.
"Republicans in Colorado have refused to stand up for themselves and their Party for far too long. Exhibit 1 in the lawsuit is a Democrat call to use Colorado's unconstitutional Primary law to take out Congresswoman Lauren Boebert in the Primary Election. This litigation aims to end this dilution of Party values."
Charles Bonniwell, chairman and a spokesman for PARABLE, expressed the group's commitment to protecting democracy in Colorado. "If we don't want one-party rule in Colorado, we must protect the right of a party to pick its own candidates so Coloradans have a choice, not just a dominant uni-party with the rest little more than an echo."
The filings and more information are at MyColoradoGOP.org. The litigation is being funded through tax deductible contribution to the Claremont Institute's Center for Constitutional Jurisprudence, and donations can be made at ccjlitigation.com.
MEDIA CONTACT: CHARLES BONNIWELL – PARABLE Chairman (303) 204-4874. This email address is being protected from spambots. You need JavaScript enabled to view it.
###
CLICK HERE to download press release.
---
CLICK HERE TO READ ABOUT OUR EFFORTS TO "OPT OUT" OF THE OPEN PRIMARY
California Democratic Party v. Jones (2000)
By David Schultz https://mtsu.edu/first-amendment/article/129/california-democratic-party-v-jones
---
To contribute go to https://ccjlitigation.com and designate your tax-deductible donation to the Colorado Open Primary Constitutional Challenge Litigation Fund.
---
Parable et al v. Griswold - Case No. 1:22-cv-00477
The key documents are the Complaint, the Motion for Preliminary Injunction (which is short), and the Memo in Support of the Motion for Preliminary Injunction (which is the substantive legal brief). The Motion to expedite will also likely be of interest.
1 - Complaint
1.1 - Exhibit 1
1.2 - Exhibit 2
1.3 - Summons
1.4 - Civil Cover Sheet
2 - Motion for Prelimary Injunction
2.1 - Memorandum In Support of Motion for PI
2.2 - POrder re Motion for PI
3 - Motion for Expedited Briefing Schedule
3.1 - POrder re Motion for Expedited Briefing Schedule

For the complete set of pleadings, click here -

---
2-2-22
LAWSUIT TO END OPEN PRIMARIES IN COLORADO TO BE FILED SOON!
To contribute go to https://ccjlitigation.com and designate your tax-deductible donation to the Colorado Open Primary Constitutional Challenge Litigation Fund.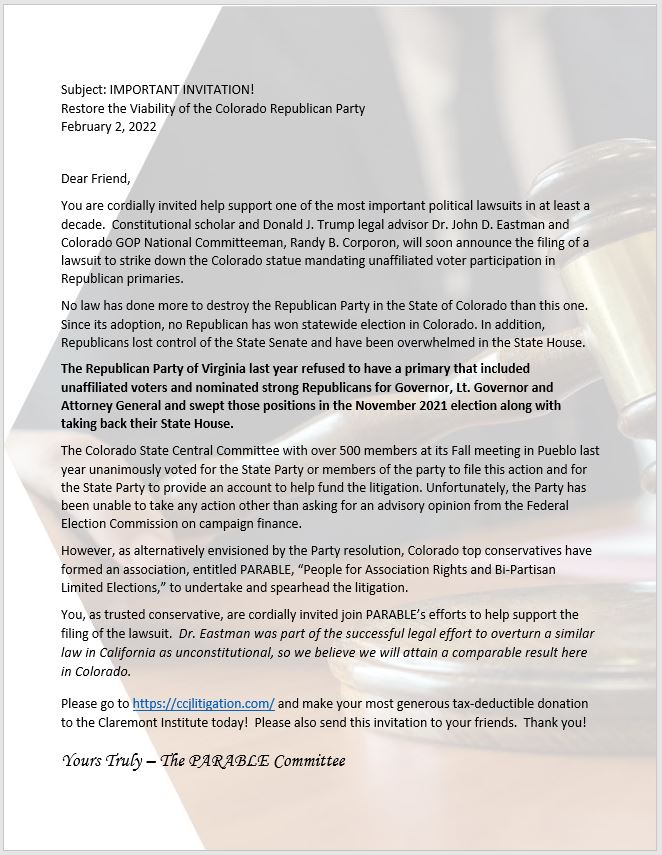 https://ccjlitigation.com
Articles with more information:
HELP FUND THE CHALLENGE TO COLORADO'S OPEN PRIMARY

LUNDBERG: CO REPUBLICANS SHOULD REJECT OPEN PRIMARIES
COLORADO OPEN PRIMARY: UNCONSTITUTIONAL
PROJECT: SAVE THE REPUBLICAN PARTY BY ENDING THE OPEN PRIMARIES
GCCC ARTICLE - STRANGE GOP DOINGS IN PUEBLO (CRC 2021 FALL MEETING)
SEVEN CURIOUS MYTHS ABOUT COLORADO'S 1.7 MILLION UNAFFILIATED VOTERS
CLAREMONT INSTITUTE STATEMENT ON SENIOR FELLOW JOHN EASTMAN
---
NOVEMBER 30, 2021 UPDATE FROM DR. JOHN EASTMAN:
Legal Defense Fund has been set up because of the subpoena issued to me from the January 6 Committee and the bar complaint filed against me. Details are at https://www.givesendgo.com/Eastman.
---
REPRESENTATIVE RON HANKS SUES COLORADO SECRETARY OF STATE JENA GRISWOLD OVER DESTRUCTION OF ELECTION RECORDS, FAILURE TO PROPERLY TEST VOTING EQUIPMENT, AND OBSTRUCTION OF INDEPENDENT ELECTION AUDITS
https://useip.org/2021/11/19/griswold-is-in-hot-water
---
Judicial Watch Lawsuit to Force Cleanup of State's Voter Rolls
https://www.judicialwatch.org/court-rules-judicial-watch-lawsuit-can-proceed-against-colorado-officials/
---