January 11, 2023
The Republicans in Park County are reclaiming their party from - the "Republicans" in Park County!
DICK AND DEB ELSNER SUPPORT DEMOCRATS. DICK REMOVED AS STATE GOP TREASURER. DEB ASKED TO RESIGN AS COUNTY GOP CHAIRMAN
Additional information at: CO GOP TREASURER FORCED OUT - AUDIT THE BOOKS!
Dick Elsner, a Park County Commissioner and the husband of the Park County Republican Committee's Chairwoman, was asked to resign as the Colorado Republican Committee Treasurer because he campaigned for the Democrat candidate for County Commissioner. Park County and many State Central Committee members asked for an audit of the CRC books – if he can't be trusted in the county, he can't be trusted at the state. The Park County Republican Chairwoman, Deb Elsner, also campaigned for the Democrat, and kept Republicans from working the county's election.
Here's the saga, with the newest entries on the top:
---
PARK COUNTY LETTER TO COLORADO REPUBLICAN COMMITTEE TO REMOVE DEB ELSNER AS CHAIRMAN BECAUSE SHE SUPPORTS DEMOCRATS — AND MORE.
1/5/23
-------- Original message --------
From: Committed Republicans Of Park County <This email address is being protected from spambots. You need JavaScript enabled to view it.>
Date: 1/5/23 9:45 AM (GMT-07:00)
To: Committed Republicans Of Park County <This email address is being protected from spambots. You need JavaScript enabled to view it.>
Subject: Park County Complaint against PCRCC Chair and Executive Committee
January 5, 2022

Colorado GOP Chairwoman Kristi Burton Brown (KBB)
Republican State Executive Committee (SEC)
Republican State Central Committee (SCC)
RE: Complaint Against the Park County Republican Central Committee (PCRCC) Chairperson, Deb Elsner, and the PCRCC Executive Committee for Election Interference, Bylaw Violations and Public Campaign efforts for a Democrat Candidate.

Dear Kristi Burton Brown, Republican State Executive Committee, and Republican State Central Committee,
During the 2022 Primary and General Elections the PCRCC Chairperson, Deb Elsner, and the Executive Committee betrayed the Republicans of Park County by abandoning their commitment to the Republican Party. They gave their allegiance to the Democrat Party by supporting, directly or indirectly, the Democrat Candidate for County Commissioner in District 3. The PCRCC Chairperson, Deb Elsner, further abandoned her role as an elected Republican official by committing Election Interference and County, State and Federal Bylaw violations.
Please view the attached Park County Complaint against the PCRCC Chairperson🔗, Deb Elsner, and the PCRCC Executive Committee. Also attached is the Supporting Document🔗
- Evidence of malfeasance in PCRCC Leadership.
Thank you for reviewing this Complaint and offering a Cure within a timely manner.
Respectfully,
Committed Republicans of Park County
---
DICK ELSNER RESIGNS AS STATE GOP TREASURER - REPUBLICANS REQUEST A FULL, INDEPENDENT, AND IMPARTIAL AUDIT OF THE STATE GOPS FUNDS IMMEDIATELY
11/28/2022
Dear SCC Members:
Please join us in requesting a full, independent, and impartial audit of the State GOPs funds immediately.
On Monday, 10/24/22, Kristi Burton Brown, the State GOP Chairwoman, requested and accepted Dick Elsner's resignation as the State GOP Treasurer at the behest of the Park County PCP's. When Dick Elsner was appointed to serve as the State GOP Treasurer, he agreed to abide by the state GOP Bylaws which state the main purpose of his GOP position was to
"…elect duly nominated or designated Republican candidates to office."
Dick Elsner betrayed the trust of all Colorado Republican's by publicly campaigning for and supporting a Democrat Candidate over the Republican Candidate, Dave Wissel, for County Commissioner in Park County. Dick Elsner seemed willing to turn Park County "Blue" to save his own skin by securing the same 2/3 vote as County Commissioner that he has enjoyed for the past 4 years with the outgoing commissioner who voted in lockstep with Dick Elsner for the past many years. It is Dick Elsner's intention to keep control of the new commissioner's vote, and he can't secure that vote under Dave Wissel.
Of main concern, we brought this news out of Park County and it seems Kristi Burton Brown has yet to notify the SCC of such transgressions, which she promised to disclose after the election. Given that Dick Elsner held the title of State GOP Treasurer, you must call for an impartial 3rd party audit of the books before December 31st to ensure Dick's improprieties don't stretch further than the ones currently listed. Kristi Burton Brown informed us that Dick Elsner did not, as Treasurer, have access to GOP funds. We ask this question…. If not Dick Elsner (the Treasurer) then who? If the Treasurer position nothing more than a nametag position, why have it?
We the undersigned request a full, independent, and impartial audit of the State GOPs funds Immediately.

ATTACHMENTS:
Elsner resigns post as Treasurer for Colorado Raepublican Party (sic)🔗
Republicans for Girodo - Disck Elsner's mailer.pdf🔗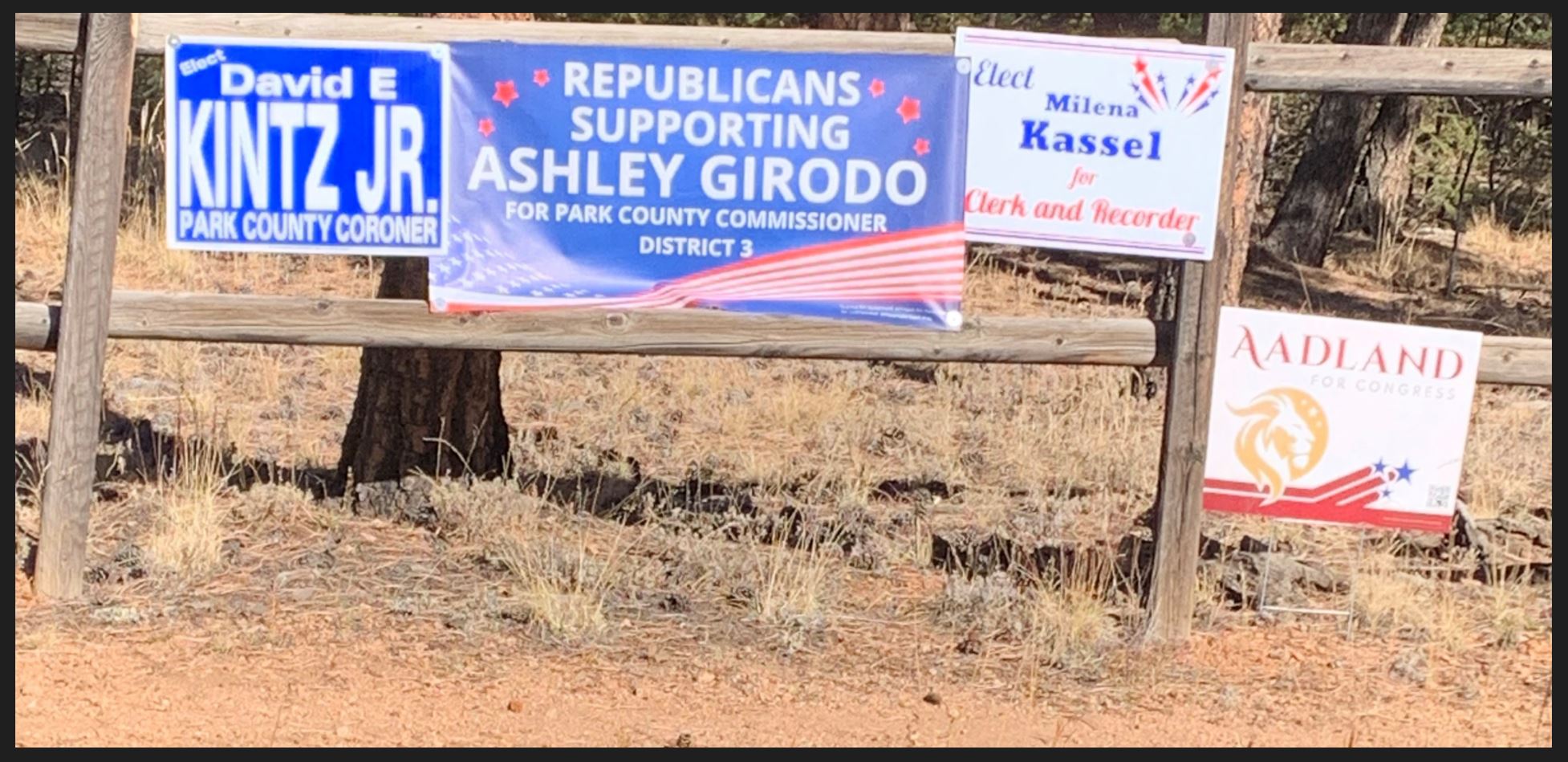 ---
9/6/22 PARK COUNTY REQUEST TO REMOVE CHAIRMAN🔗
---