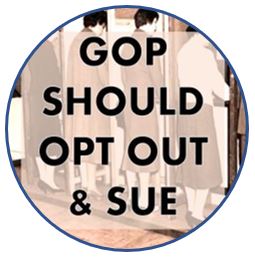 March 18, 2023
CONGRATULATIONS TO DAVID WILLIAMS, PRISCILLA RAHN, AND ANNA FERGUSON, the new Colorado GOP leadership team!
All three believe that's it is unconstitutional for voters who are not affiliated with the party to elect the Republican candidates who will compete in the general election.
CHAIRMAN DAVE WILLIAMS is so passionate about it that he put up a website to encourage the State Central Committee (SCC) to vote to OPT OUT at the fall meeting in 2021 -
www.ElectionIntegrityFight.com/home. Also check out his Frequently Asked Questions.🔗
---
OPT OUT DISCUSSIONS - MEDIA APPEARANCES, 2021🔗
---
The MyColoradoGOP.org team traveled the state during the Spring and Summer of 2021, talking to SCC members and encouraging them to vote to OPT OUT. Here are links to the articles we wrote at that time -
PROJECT: SAVE THE REPUBLICAN PARTY BY ENDING THE OPEN PRIMARIES.🔗 April - September 2021
For those who prefer charts and graphs -
LIBERATE THE REPUBLICAN PRIMARIES GRAPHS🔗
---
Print out, cut, and distribute the following fliers at your next Republican gathering!
CLICK HERE to download the images in a printable .pdf file.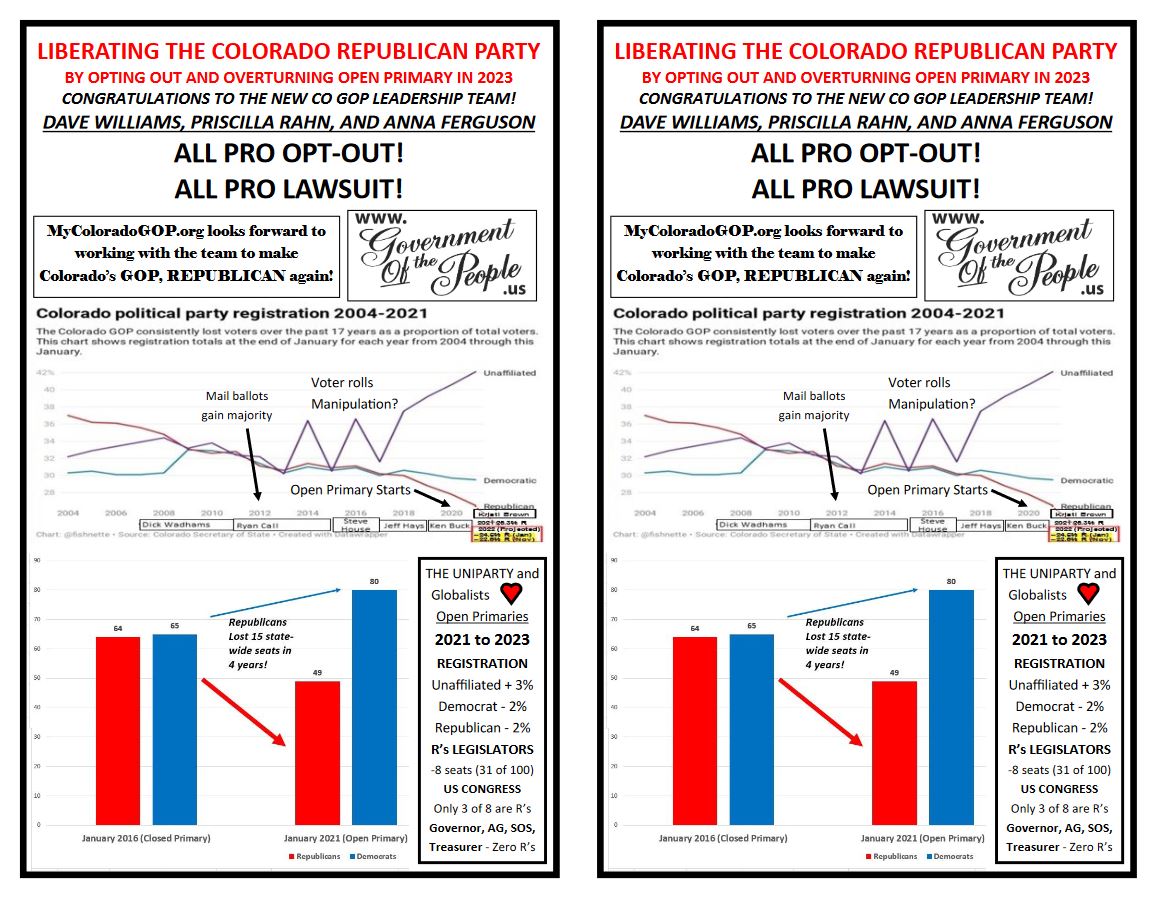 ---
The OPT OUT vote failed in 2021. However, there was a near unanimous vote to sue to prove the open primary elections are unconstitutional. The former chairman did not bring a lawsuit as directed by the committee, so we gathered a new group to file the lawsuit.
OPEN PRIMARY CONSTITUTIONAL CHALLENGE LITIGATION🔗
New Colorado Group Files Suit to Declare Open Primary Law Unconstitutional
(Click on article title above for lawsuit details and more information.)
COLORADO OPEN PRIMARY: UNCONSTITUTIONAL by Dr. John Eastman
---
RESULT: KBB'S INACTION ALLOWED UAFS TO VOTE IN 2022 PRIMARY
---
CELEBRATING THE 2023 SCC SUCCESSES!

Here's a quote from one of our OPT OUT articles in 2021:
Remember - the voting members of the Republican Party were elected through the caucus and assembly/convention process, meaning THEY REPRESENT YOU (if you're a registered Republican)! https://mycoloradogop.org/2-my-gop/16-caucus-assembly-convention-process Please encourage your party representatives to attend the Fall SCC meeting and vote to opt out. If they won't attend (in person or by proxy), be prepared to replace them in 2022 with a Republican who will stand for the integrity of the Party and Colorado.
With the new leadership team on board and the SCC members having been elected by a wave of America First Republicans, Colorado Republicans have a chance at the 2023 Fall Meeting to vote to OPT OUT of open primaries. Let's do it and Liberate the Republican Party from the unconstitutional interference from outside forces!
---
Along with the OPT OUT vote, the legal team that represented the PARABLE Group in 2021 is preparing to help bring the lawsuit again under this new GOP leadership team. Stand by and watch MyColoradoGOP.org for updates!