OPEN PRIMARY CONSTITUTIONAL CHALLENGE LITIGATION
New Colorado Group Files Suit to Declare Open Primary Law Unconstitutional
(Click on article title above for lawsuit details and more information.)
To contribute go to https://ccjlitigation.com and designate your tax-deductible donation to the Colorado Open Primary Constitutional Challenge Litigation Fund.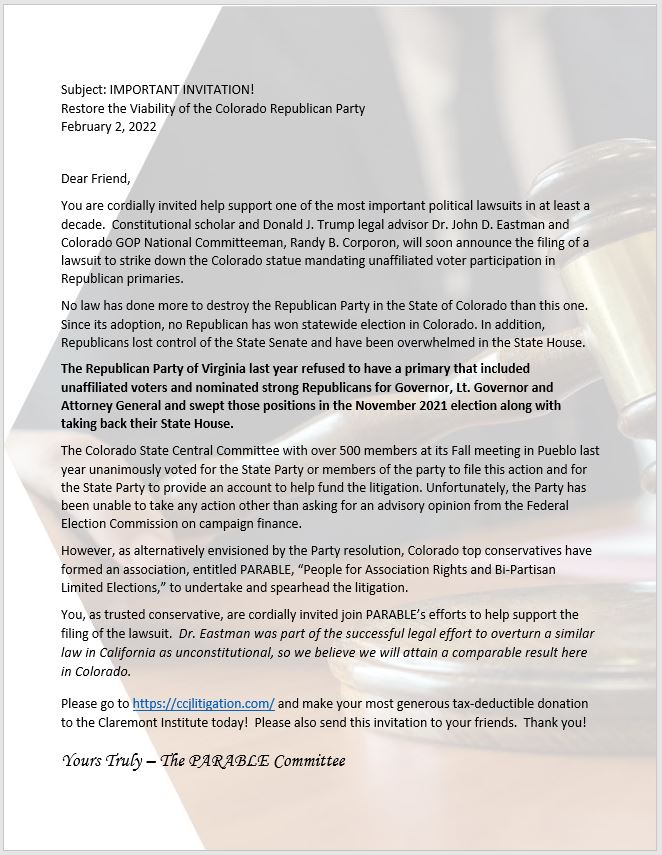 https://ccjlitigation.com
CLICK HERE to read more.
---
CLAREMONT INSTITUTE STATEMENT ON SENIOR FELLOW JOHN EASTMAN
NOVEMBER 30, 2021 UPDATE FROM DR. JOHN EASTMAN:
Legal Defense Fund has been set up because of the subpoena issued to me from the January 6 Committee and the bar complaint filed against me. Details are at https://www.givesendgo.com/Eastman.
---
Hanks, et al v. Griswold
Colorado Secretary of State Jena Griswold sued over destruction of election records, failure to properly test voting equipment, and obstruction of independent election audits. The relief sought in this case is a full, independent forensic audit of Colorado voting systems and the 2020 election in Colorado.
https://www.hanksforcolorado.com/lawsuit
https://www.thegatewaypundit.com/2022/02/colorado-secretary-state-jena-griswold-sued-not-legally-certifying-2020-election-illegally-destroying-records-creating-law-specifying-certain-unknown-individuals-can-audit-vo/
https://asheinamerica.com/2022/02/17/is-griswold-illegally-surveilling-her-constituents-to-neutralize-dissent/
---
FROM FORMER STATE REPRESENTATIVE LORI SAINE:
Three years ago, I joined with my colleagues Dave Williams and Pat Neville, and Rocky Mountain Gun Owners, to SUE Jared Polis over his unconstitutional "Red Flag Gun Confiscation" law passed here in Colorado. Just recently a Colorado Court of Appeals ruled that our case can continue moving forward . . . and that's exactly what we're doing. To read more about our case, please click here.
---
Judicial Watch, Inc. et al v. Griswold et al (1:20-cv-02992), Colorado District Court, Filed: 10/05/2020
https://www.pacermonitor.com/public/case/36561998/Judicial_Watch,_Inc_et_al_v_Griswold_et_al
---