Click image below to view slides in .pdf format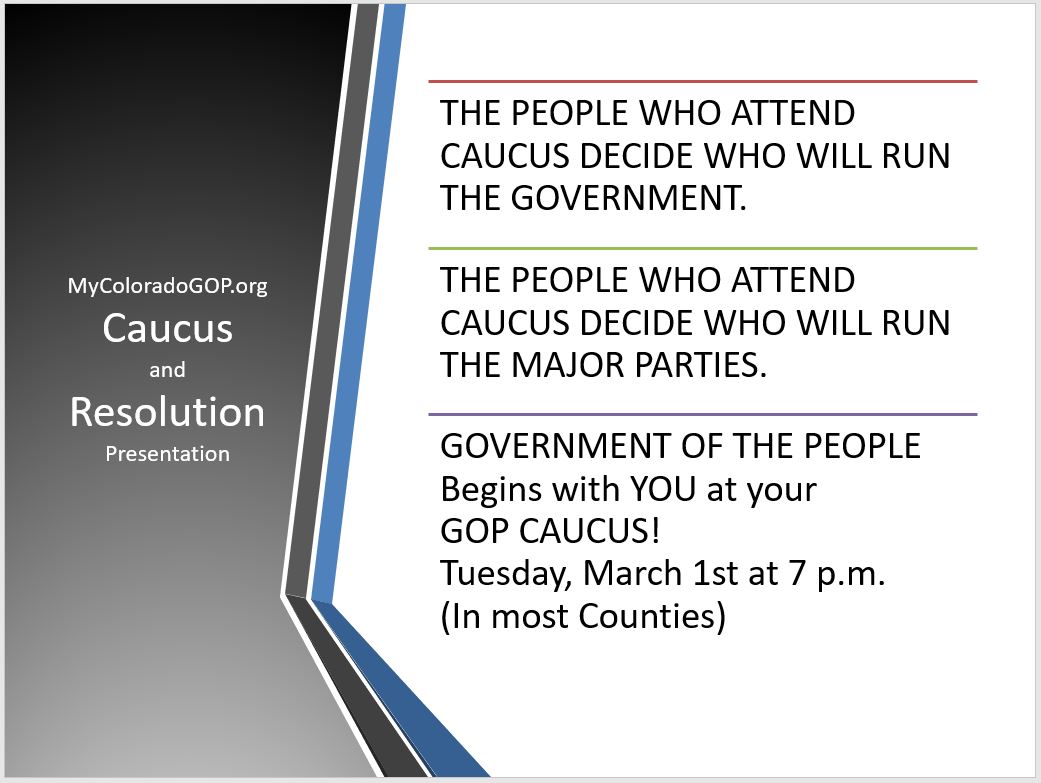 Important links:
Find your CAUCUS LOCATION and new precinct number - https://caucus.cologop.org/
NOTE: You are not required to pre-register for caucus. Simply scroll down to find the location. If it is not there, check with your county party.
Find Contact Information For Your County GOP -
https://www.cologop.org/county-parties/
See end of article for links to interactive maps with new district boundaries.
Find your new Precinct Number and check your registration:
https://www.coloradosos.gov/voter/pages/pub/olvr/findVoterReg.xhtml
RESOLUTIONS: CAUCUS ATTENDEES DIRECT THE COURSE OF THE PARTY AND ITS LEGISLATION
Above is an updated version of the film that former State Senator Kevin Lundberg created when he was running for State Treasurer in 2018. The content about the importance of the precinct caucus is still pertinent and VERY important.
The following chart is a comprehensive view of the Colorado Caucus and Assembly process. Go to 2022 CAUCUS FLOW CHART to see it broken down into the individual components of the system. Simply stated, the process is a series of political party meetings that begin at Precinct Caucuses. Beginning there, Citizens elect representatives to larger and larger political districts in a series of Assembly meetings. People elected at Caucus are the foundational members of the political parties and the ones who directly or indirectly designate primary ballot candidates. This chart is included in the slide show above with each district enlarged.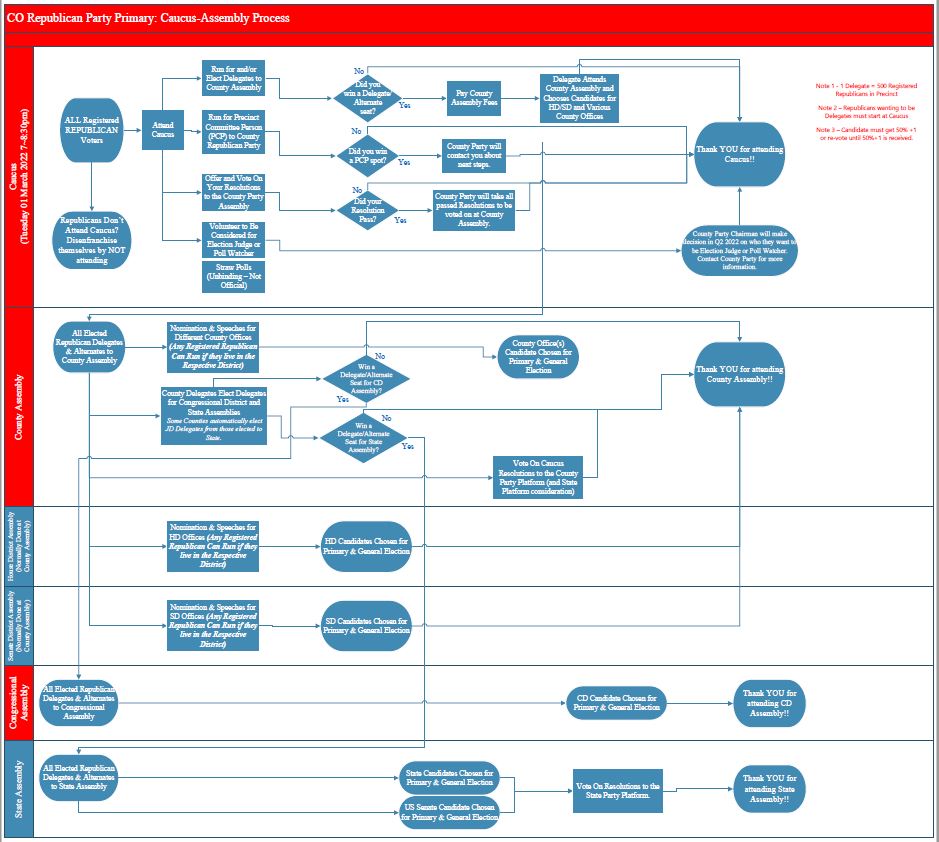 ARTICLES ABOUT COLORADO'S CAUCUS/ASSEMBLY/CONVENTION PROCESS
WHAT IS THE CAUCUS/ASSEMBLY/CONVENTION PROCESS?
WHY ARE THE CAUCUSES SO IMPORTANT?
FIRST STEPS TO THE 2022 CAUCUS
INFO FROM PrecinctStrategy.com
THE SOS VOTER REGISTRATION PAGE
COLORADO'S ELECTION PROCESS CHART
WHAT HAPPENS AT THE CAUCUS MEETING?
UNDERSTANDING YOUR PRECINCT NUMBER
RESOLUTION SUGGESTIONS FOR 2020 COLORADO GOP CAUCUSES
BOULDER COUNTY 4-PAGE CAUCUS PROCESS FLIER
HOW THE D's DO IT - NEW ERA "RESCUED" BOULDER MUNICIPALIZATION
LEADERSHIP INSTITUTE'S DOOR-TO-DOOR CAMPAIGNING MANUAL
---
Steve Bannon hosts Dan Schultz to discuss the Precinct Committee Strategy
---
Precinct Strategy's Dan Schultz and Steve Stern discuss how American Patriots can take back the Republican Party from the Globalists
---
2/2/2022 Let's Talk America: Dr. Alan Keyes ft. Steve Stern & Michelle Terris
---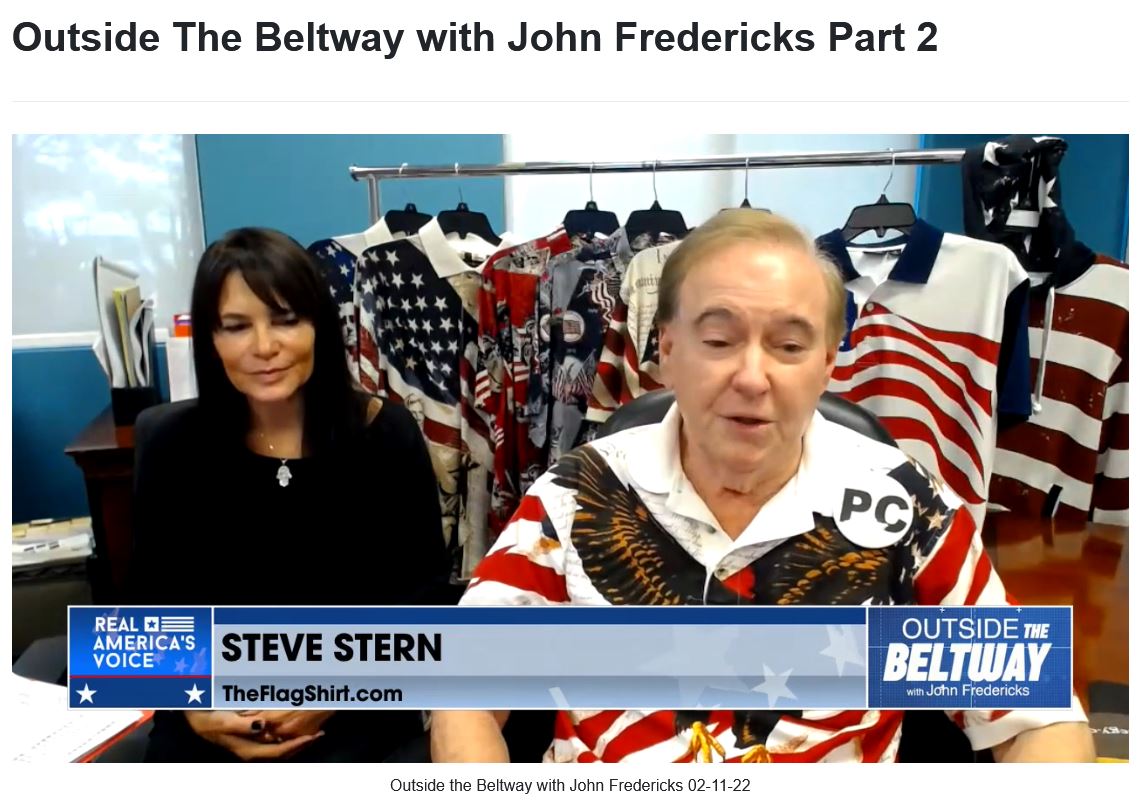 ---
Additional resources:
https://precinctstrategy.com/ (Interesting note from Peg - it was from watching the interview on Bannon's Warroom that I learned that South Carolina was about to have a "hybrid" Organizational Meeting, following the Colorado fiasco of March, 2021. Here is the letter I wrote to Lyn Wood and the SC GOP - Open Letter to SC GOP.
https://www.5280.com/.../yes-colorado-still-has-caucuses.../
Find your caucus location and register for caucus. May not be active yet:
https://caucus.cologop.org/
Caucus Slide Show from the Colorado GOP:
https://www.cologop.org/wp-content/uploads/2022/01/2022-Basic-Caucus-Assembly-Overview.pdf
Find your new district numbers with these 2022 Colorado CD, SD & HD interactive maps links (Type your address in the blue search bar at the top of the page):
Congressional: https://coleg.maps.arcgis.com/apps/View/index.html?appid=5b67525550b347219dbfa72482462f3f
State Senate:
https://coleg.maps.arcgis.com/apps/View/index.html?appid=e651bcd208074533a11152b4690024bc
State House:
https://coleg.maps.arcgis.com/apps/View/index.html?appid=41b742a9931a4c87a6e43b01c734c0c9
Find your new Precinct Number and check your registration:
https://www.coloradosos.gov/voter/pages/pub/olvr/findVoterReg.xhtml