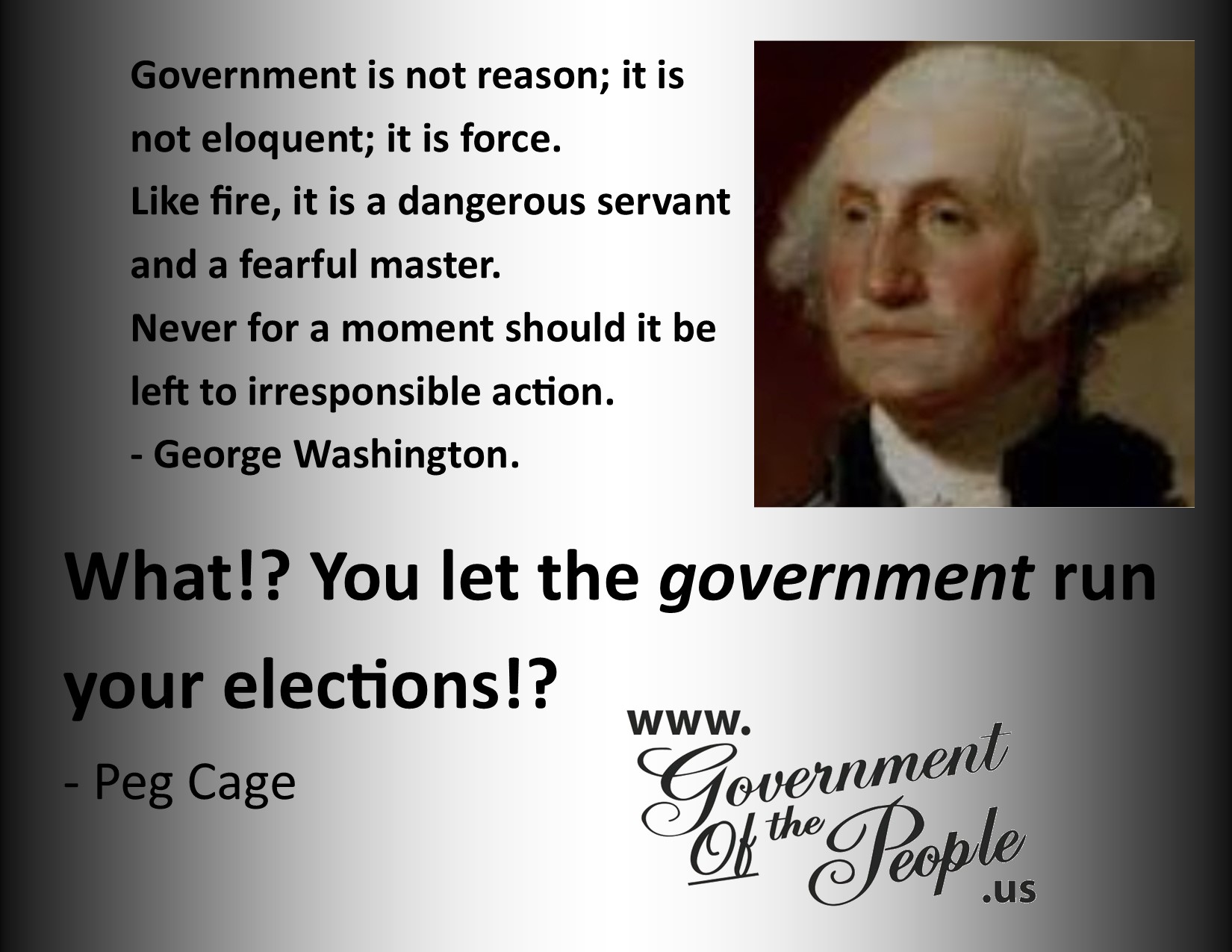 VOTE! VOTE! VOTE! VOTE! VOTE! DON'T ABDICATE - PARTICIPATE AND DOMINATE!
---
1-18-2023 IT IS ENOUGH THAT YOU KNOW THERE WAS AN ELECTION
---
DON'T CERTIFY -- ARTICLES OVER THE YEARS, in chronological order.
DESCRIPTION OF CERTIFYING AN ELECTION
---
I AM AN ELECTION DENIER Article by Peg Cage 10-20-2022
---
CLICK HERE FOR INFORMATION ON ELECTION INTEGRITY LAWSUITS
---
MyColoradoGOP.org Telegram channel - Contains news articles from all over Telegram!
October 6, 2022 It's Happening: Alaska Borough Bans Voting Machines for All Future Elections
October 3, 2022 GATEWAY PUNDIT Article, Midterm Action List – SEVEN STEPS You Can Take to SAVE OUR ELECTIONS From Fraud
August 15, 2022 MUST SEE VIDEO: Election Hack Identified that Can Instantaneously Swap Votes on a Ballot Before It Is Even Stored: GATEWAY PUNDIT Article,
Video - August 2019, 28 minutes
---
SELECTION CODE – THE ENTIRE MOVIE
---
PRESS RELEASE:
2022 COLORADO PRIMARY ELECTIONS - UNCERTIFIABLE?
"The Colorado election system dangerously assumes that elections belong to the government, rather than the people. The people conduct elections to choose government."
---
August 2, 2022 -
GREG LOPEZ TO EL PASO CLERK - TEST TO RESTORE CONFIDENCE!
---
The articles below were posted and shared to encourage the Republican Canvass Board members for the 2021 Colorado elections to not certify the elections. Of the 64 counties, I am aware of only one that refused to certify.
CAN THE ELECTION BE CERTIFIED IF IT'S NOT VERIFIED?
DON'T CERTIFY 2021 AND DECERTIFY 2020
LETTER TO GOP CHAIRMEN - DON'T CERTIFY 2021 ELECTION
LETTER TO COLORADO CITIZENS - DON'T CERTIFY 2021 ELECTION
YOUR 2021 CANVASS BOARD MEMBERS – THE LAST, BEST HOPE FOR COLORADO
---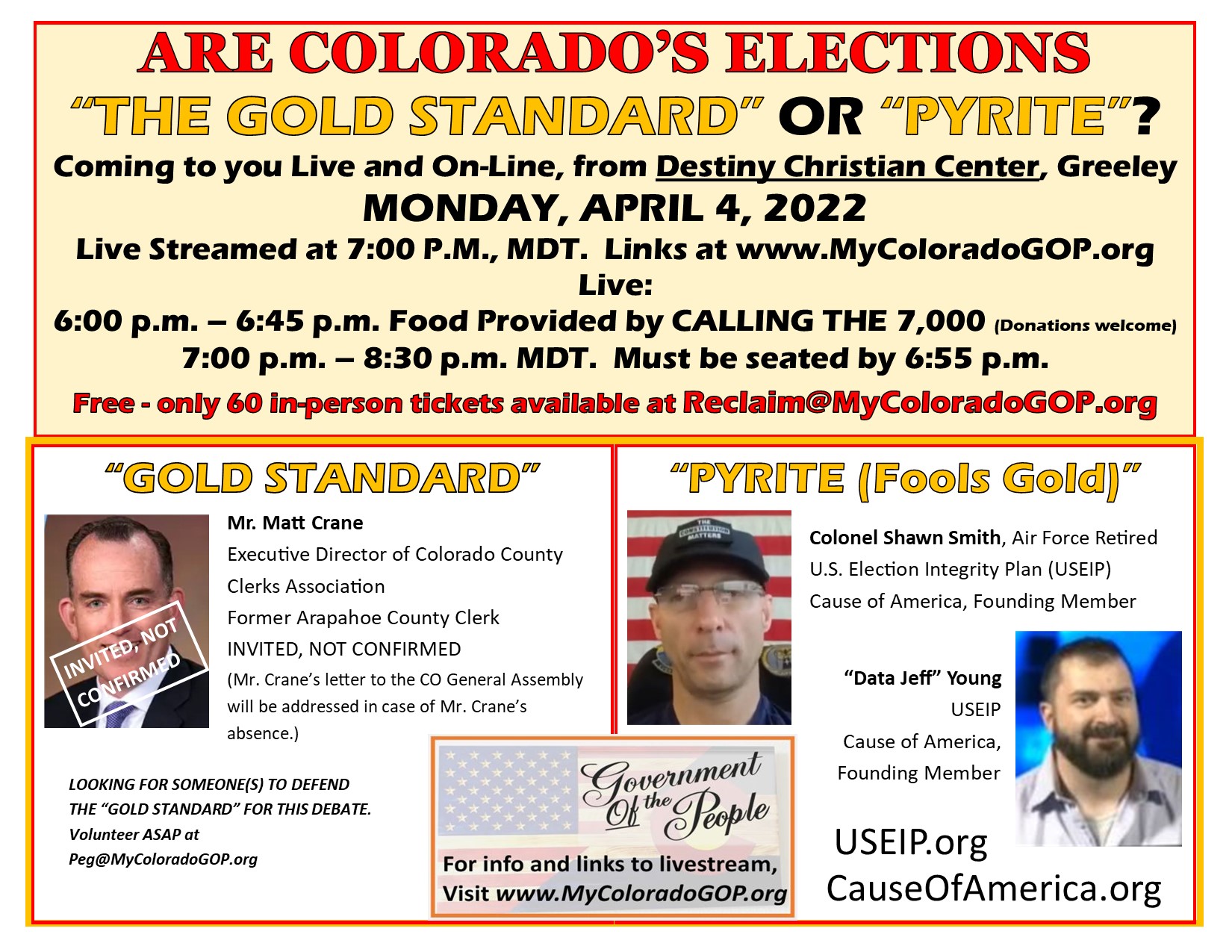 Matt Crane said, "The time for debate is over" and did not attend. Click on flier image for presentation.
Over a year earlier, Cause of America addressed the false assertions Matt Crane made in an email he sent to the General Assembly as Executive Director of the Colorado County Clerk's Association.
READ THE CAUSE OF AMERICA LETTER HERE.🔗
---
REP. RON HANKS LETTER ON ELECTION CERTIFICATION
TOOLS FOR COLORADO CANVASS BOARDS - IS 2021 CERTIFIABLE?
GENERAL ELECTION 2020 - NOT CERTIFIABLE
ADVICE FOR THOSE SERVING ON THE CANVASS BOARD
(More links below)
---
WATCH THIS!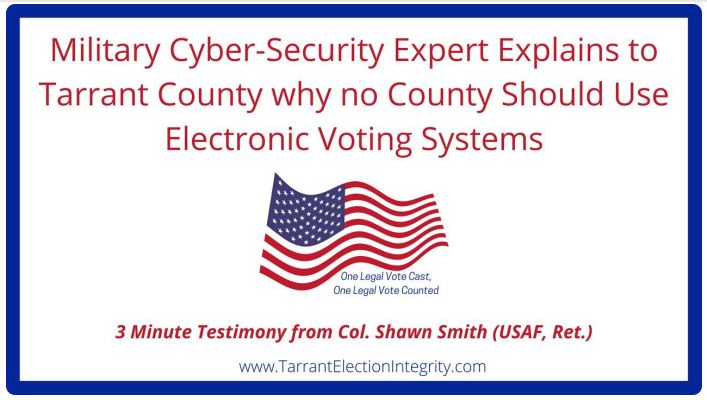 ---
Click on the image below for an amazingly comprehensive chart with links to Election Anomalies articles and videos. Most of the information linked to this chart is from the year following the 2020 election, yet the main stream media message was that "There's no evidence of fraud."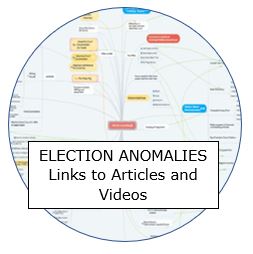 ---
ELECTION INTEGRITY ARTICLES
2022 - EVER WONDER WHO IS DECIDING OUR ELECTIONS?
2022 - DEBATE - GOLD STANDARD OR PYRITE?
IRREGULARITIES IN THE 2020 ELECTION
2020 US Presidential Election Related Lawsuits
ELECTION INTEGRITY OR GASLIGHTING?
MEMES TO RAISE AWARENESS OF THE IMPORTANCE OF CANVASS BOARDS
FOUR COLORADO COUNTIES REFUSE TO CERTIFY THE 2020 GENERAL ELECTION
BOULDER COUNTY REPUBLICANS DECLINE TO CERTIFY THE STATE 2020 PRIMARY ELECTION
DON'T TRUST COLORADO'S ELECTIONS 4-2018
BOULDER COUNTY CANVASS REPORTS 2010 to 2020
---
"...COLORADO ELECTIONS ARE SAFE AND ACCURATE" - MATT CRANE, Executive Director of the NGO Colorado County Clerks Association.
Matt Crane - Denver Post Guest commentary: Don't let the dishonest actors distract you, Colorado elections are safe and accurate 'County clerks across the state finally have to say, enough is enough..."
MATT CRANE: THE TIME FOR DEBATE IS OVER
Matt Crane made false assertions in an email he sent to the General Assembly as Executive Director of the Colorado County Clerk's Association. Fortunately for Cause of America, Matt open copied all recipients, so Cause of America was able to send the following letter that addresses those assertions to all of the people who received Matt's letter:
READ THE CAUSE OF AMERICA LETTER HERE.🔗
---
Oct. 2019 – Dominion Democracy Suite Voting Systems – Watson Report, Texas: Security Concerns - DO NOT CERTIFY MACHINE (Cause of America .pdf file)
---
THE 320 PEOPLE WITH THE FINAL SAY IN COLORADO'S ELECTIONS
UPDATE ON THE 320 PEOPLE WITH THE ELECTION'S FINAL SAY
COLORADO: THE ELECTION FRAUD TEST KITCHEN
CAN THERE BE AN HONEST ELECTION WITH ALL MAIL IN BALLOTS?
"A Great Deal Of Intelligence Can Be Invested In Ignorance When The Need For Illusion Is Great."
REFUSAL TO CERTIFY THE 2016 ELECTION IN BOULDER COUNTY
WHY BCR DIDN'T CERTIFY 2016 ELECTIONS

ELECTION INTEGRITY REPORT 2016
SOS SCOTT GESSLER ACCEPTING NON-CERTIFIED BOULDER ELECTION 2014
---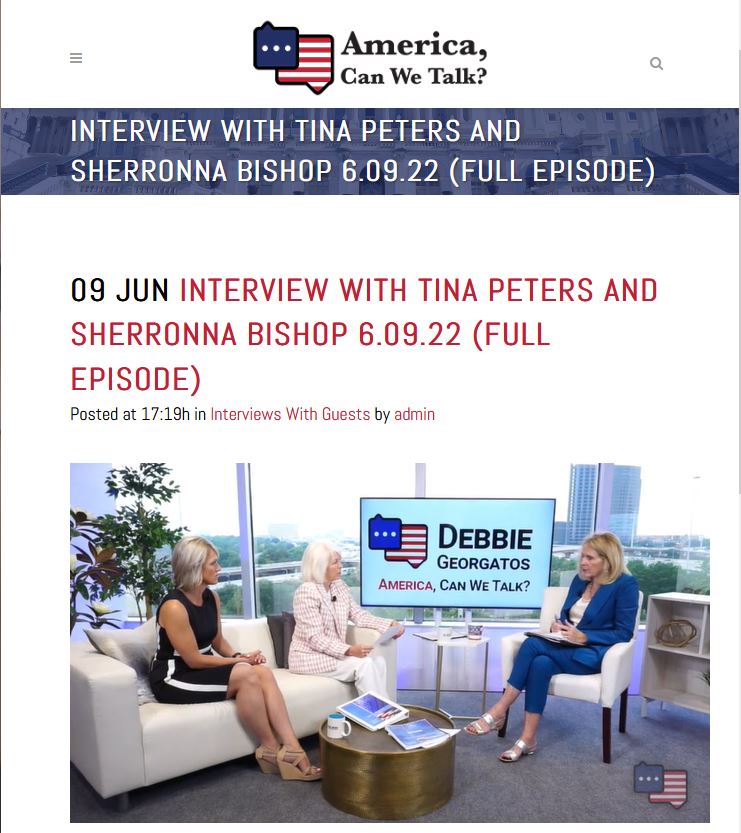 Click on the image above to hear this very important interview.
---
COLORADO'S GOVERNMENT - YOURS TO RECLAIM!
---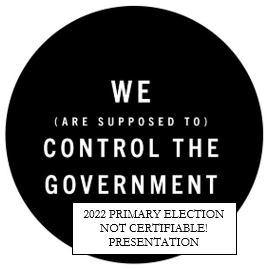 ---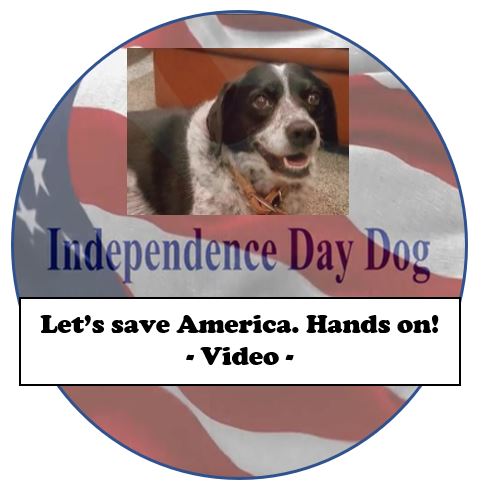 INDEPENDENCE DAY DOG - Less than two minutes long, this simple but powerful story encourages us to save America. Hands On!
---
THE FIGHT FOR COLORADO REPUBLICAN COMMITTEE ELECTION INTEGRITY -
BASIC INFORMATION FOR THE 2021 REPUBLICAN SCC ORGANIZATIONAL MEETING
LETTER TO THE COLORADO REPUBLICAN EXECUTIVE COMMITTEE
MAGA DRAG THE INTERSTATE PEACEFUL PROTEST FOR GOP ELECTION INTEGRITY
PHOTOS AND SPEECHES FROM PEACEFUL PROTEST FOR GOP ELECTION INTEGRITY
PROJECT: SAVE THE REPUBLICAN PARTY BY ENDING THE OPEN PRIMARIES
THE "OPT-OUT," A BATTLE WE CAN AND MUST WIN
SAVE THE CO REPUBLICAN PARTY - VOTING MEMBERS OPT-OUT SURVEY
OPT-OUT OPINIONS, PRO AND CON

CRC, STEP UP OR STEP DOWN
The majority of Delegates to the 2022 State Assembly voted to pass the following resolution:
Resolution #2: We Require Integrity in Elections.
Whereas over the last 6 election cycles the people of Colorado, on both sides of the aisle, continue to mistrust the accuracy of election results and
whereas elections exist to give these same people a republican government they choose through democratic means that can be held accountable at the ballot box, and
whereas illegally cast votes directly cancel out legally cast votes,
Be It Resolved that the Colorado Republican Party supports each eligible voter actively registering to vote,
ending automatic voter registration,
and insists on the cleaning of county voter rolls so that only qualified voters receive ballots who then are required to show state-issued ID when voting in person.
The Colorado Republican Party also supports locally controlled elections following the rule of law with verifiable counts and processes;
rejects Secretary of State administrative rules used inconsistently in opposition to state law and changed in the midst of an election;
opposes the use of private funds to assist in the administration of elections;
calls for the development of a plan to hold elections during emergencies;
and requests forensic audits of election machines and the maintaining of backup images of each hard drive in the voting system on an external hard drive, kept safe for the statutory 25 months or until the completion of all audits.
Voting shall be in person on Election Day at the precinct voting center, with voter ID.
Mail in ballots shall be permitted only for active-duty military, and registered voters who request a mail in ballot because they are physically unable to vote in person.
Ballots should be counted by hand by election judges in each precinct.
https://www.cologop.org/wp-content/uploads/2022/04/Approved_CRC_Resolutions_final-4-9-2022-1.pdf